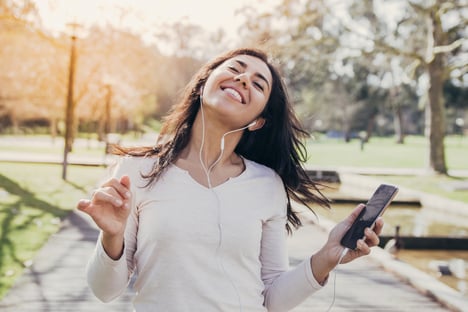 Picture this: You're sitting in the car, in stop-and-go traffic. Your mood is just shot and all you want to do is get home. Now try this: Turn up the volume on your radio and let the music take over your soul!
According to Harvard Health, music is a fundamental attribute of the human species. All cultures, from the most primitive to the most advanced, make music. And thank goodness they do! As humans we sing, hum, make music with our hands by clapping; we sway our bodies or bob our heads back and forth when a catchy beat comes on; and we even dance to celebrate. Music is essentially wired into us by the sound of our heartbeats.
Music for Happiness
As obvious as it sounds, if you are ever in need of an emotional boost, let it be known that it only takes 15 minutes of listening to your favorite tunes to get a natural high. Your brain releases dopamine, a neurotransmitter that leads to increased feelings of happiness, excitement, and joy.
Improved Performance
Scientists have found that when people listen to motivational music, they run faster than those who do not listen to music. The key to enhancing your performance lies in the choice of music that motivates and inspires you to move forward and faster.
Decrease Stress; Increase Health
Sixty percent of illnesses and diseases are caused by stress. To lower your levels of stress means increasing your uptake in music (and other things, but we're focusing on music right now). Listening to music decreases the levels of cortisol in your body, which counteracts the effects of chronic stress.
During those much-needed breaks from work or even while you are working, play some inspiring, motivating music to help boost your mood and your health.
Sounds of Sleep
Hearing or singing lullabies is known to help children go to sleep. Over 30% of Americans suffer from insomnia. A study showed that listening to classical or relaxing music within an hour of going to bed significantly improves sleep, compared to listening to an audiobook or doing something else before bed.
Motivation Playlist
See how music motivates your fitness professionals at NIFS. We asked Tony, Thomas, Ashley, Lauren, and Tinisi to each name songs that help change their moods, motivate, and help them relax and enjoy the sounds:
Can you guess the songs chosen by each fitness pro?
This blog was written by Ashley Duncan, Weight Loss Coordinator. To Learn more about the NIFS bloggers, click here.