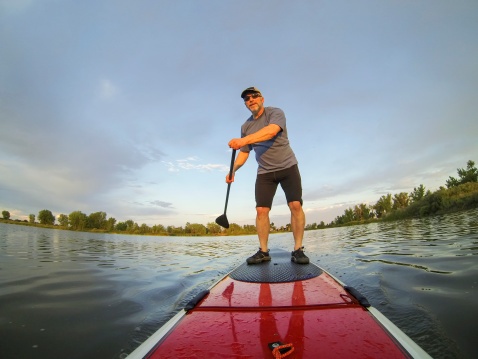 This is a great time of year to get out and do some fitness activities that you do not get to do year round, living in an Indiana climate. As the weather turns, the opportunity for some watersports becomes more realistic. While there are many different things you can do for exercise on the water like kayaking, canoeing, and swimming, my all-time favorite outdoor activity is paddleboarding. The benefits of stand-up paddleboarding (SUP) are vast, and this activity has gained some serious traction over the past 5 years.
Benefits of SUP
Great total-body workout: I remember the first time I saw someone paddleboarding. I thought, "Well that looks nice, relaxing, easy, and not intense!" It wasn't too long afterward that I realized it was the opposite of that! It is relaxing; however, it is also work, depending on your total time, distance covered, and pace. SUP works your entire body from your toes gripping the board, your legs and core keeping you balanced, your arms and back from paddling, all the way to the tips of your fingers as they grip the paddle.
Improves balance: SUP requires core stability and leg strength to keep you balanced on the board and able to stand. Balance is one thing that you will notice you need immediately; otherwise you will be in the water in a matter of seconds. While I wouldn't say that it's particularly hard to balance on a paddleboard, you do need to keep your center of gravity low and your body needs to be positioned in the right spot on the board.
Low impact: If you are looking for a great alternative to give the joints a rest from running or other high-impact training, SUP may be just the thing to try. This is definitely a low-impact activity with many of the same benefits as others like swimming and biking.
Improves overall strength: After spending a few hours out on the lake on a paddleboard, you might feel pretty good. But the typical muscle soreness that you feel after a workout becomes very real the next morning. When paddleboarding, you are using a lot of the smaller muscles that you don't typically use, causing them to be sore the next few days. Some of these things include sore toes or feet from gripping the board, sore glutes because you are in the bent-knee position for quite some time, and sore muscles in the shoulder and back from paddling (not a frequent motion).
Cardio workout: SUP can be a cardio workout depending on the intensity of your time out on the water. You can make SUP pretty fun by incorporating some races into your plan, which will get your heart rate up.
Reduces stress: There is something peaceful about being out on the water, and I am not really a big nature person. Being on the water and looking at the sights around you helps you relax and reduce stress. And for those who really want to take this to the next level, you can try paddleboard yoga at Eagle Creek!
Great social activity: If you can get a group of people together to go out on an afternoon trip, it makes paddleboarding all the more fun. Find a small island or shoreline you can paddle to and spend some time swimming and just relaxing in the sun.
Where to Try SUP in Indianapolis and Elsewhere
If you haven't had the opportunity to give SUP a try, I would encourage you to find some time to do so. You can rent paddleboards at Eagle Creek, or if you are on vacation near some water, look up a few places. SUP is and activity that you can try once to get the hang of it, and then go out again and really enjoy it!
This blog was written by Amanda Bireline, Fitness Center Manger. To read more about the NIFS bloggers, click here.