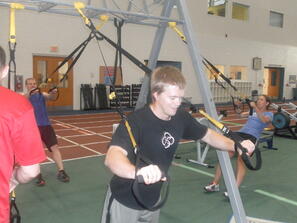 We know what crosses through many of your minds in the middle of the workouts that we provide to you through
HIT classes
,
Group Training
, and special programs at NIFS: "I bet he/she doesn't even do this stuff he/she is putting me through!" With that in mind, it would not be fair of us to expect you to complete our
Summer Showdown
Fitness Challenge without us testing it out first!
For the Summer Showdown this year, we are sticking with basic fundamental movements that almost everyone can complete with no trouble. The challenge comes into play when we ask that you select a level and complete as many rounds as you can in a given period of time.
Beginner: 10 minutes
Intermediate: 15 minutes
Advanced: 20 minutes
Here is what we have in store for you this year: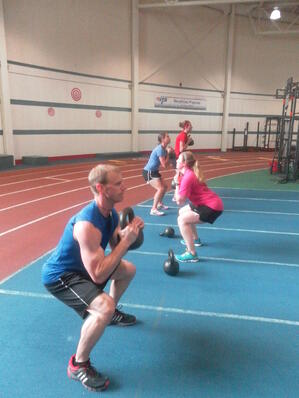 Complete as Many Rounds as Possible
50m Suitcase Carry
10 KB Swings
10 TRX Rows
As a staff, we had a great time completing the workout! Now you can rest assured that we can relate to what you are going through. If you have never participated in the Summer Showdown, don't be intimidated. This is your year to pick your level and complete the challenge to give you that extra push this summer!
If you are looking for a a great summer challenge participate in Summer Showdown from June 23-July 25! Sign-up 6/9-6/20 on the bulletin board located in the fitness center hallway.
This blog was written by Stephanie Kaiser, Fitness Center Manager and Health Fitness Specialist. To find out more about the NIFS bloggers click here.