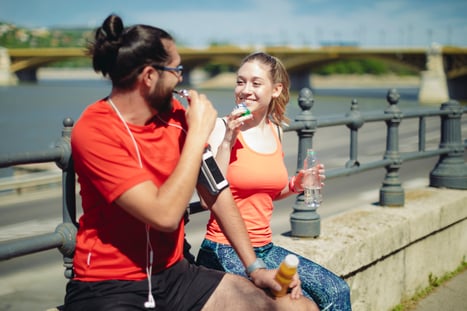 Protein bars make a great snack when you're short on time or don't have a big appetite. However, these days there are so many different protein bars available to choose from that picking the right one can be difficult. Some protein bars are relatively healthy; however, many are just fancy candy bars with a lot of sugar and saturated fat, and only a few grams of protein. When picking a protein bar, here are the top five nutrients to look for.
Total Calories
The number of calories, or amount of energy the bar provides, should depend on the purpose you want it to serve (snack, meal replacement, and so on) and the total number of grams of protein the bar contains. Typically, it is appropriate to choose a protein bar with between 150 and 250 calories.
Protein
The amount of protein is typically the first thing people look for when selecting a protein bar. However, how much is sufficient? As an in-between-meal snack, about 10 grams should suffice, whereas bars with more than 20 grams of protein per serving are great options for those who participate in heavy strength training.
As a rule of thumb, usually a bar that contains >25% of its total calories from protein is appropriate. For example, if a protein bar has 150 total calories and 10 grams of protein, about 26% of the calories in the bar come from protein (10 grams x 4 calories/gram = 40 calories/150 calories). However, a bar with 220 calories and just 12 grams of protein would only have about 21% of its total calories from protein.
Saturated Fat
Many protein bars have a high saturated fat content. The average American diet is already high in saturated fat, a nutrient that can increase your LDL ("bad" cholesterol) levels and increase the risk of developing heart disease. The Dietary Guidelines for Americans suggest consuming <10% of your daily calories from saturated fat, so you should follow similar guidelines when looking for a protein bar. For example, a protein bar that has 150 calories and 3 grams of saturated fat (9 calories/gram of saturated fat) has close to 20% of its calories from saturated fat, which does not follow the suggested guidelines. However, a bar with 200 calories and just 1.5 grams of saturated fat has only 6% of calories from saturated fat, and therefore would be a more appropriate choice.
Sugar
Added sugars are a source of calories, but provide hardly any nutrients. To avoid choosing a candy bar advertised as a protein bar, opt for one with less than 6–8 grams of added sugars. If "sugar," "sucrose," or "high-fructose corn syrup" is one of the main ingredients listed on the label (listed first after "ingredients"), it is likely that the bar will contain more sugar than recommended and you should avoid it.
Fiber
Fiber is a type of carbohydrate that helps keep you fuller for longer and an important component of a protein bar if you're utilizing it as a snack or meal replacement. A good suggestion to follow would be to choose a protein bar that has at least 3 grams of fiber. Use caution, however: some protein bars can contain high amounts of fiber, and if you don't currently meet your fiber requirements, this could cause gastrointestinal discomfort (bloating, gas, and so on).
Protein bars can play a role in a healthy diet. Use these guidelines to make sure you're picking the right bar for your nutritional needs.
This blog was written by Lindsey Recker, MS, RD, NIFS Registered Dietitian. To learn more about the NIFS bloggers, click here.