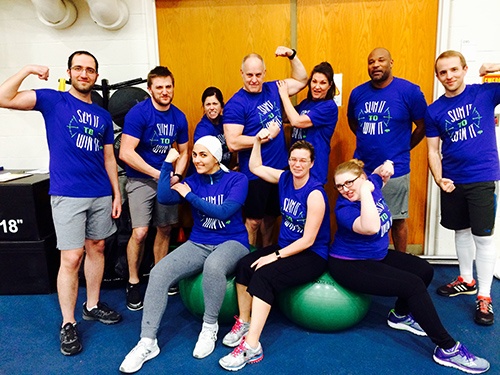 The NIFS 2018 Slim It to Win It is in full swing with the energy high and the gym packed with like-minded people working so hard to reach their desired health and wellness outcomes, which include weight loss. All 11 coaches are firing up their teams and leading the way to behavioral changes, good nutrition habits, and of course, cutting-edge and fun training sessions. I have been so inspired by both the participants and the coaches for this year's program that it takes me a bit to wind down following an action-packed day here at NIFS!
What's in a Name?
At the beginning of the program, each team is tasked with giving themselves a name—usually something that embraces a motto for the group, or pays homage to the team's coach by cleverly using their name somehow. It is a very important step that not only gives the team a chance to show off their creativity, but also helps build unity in the group and solidifies a purpose that all in the group embrace and work toward. And when a group of people is working toward a common goal, the question is no longer "if" but "when" they will succeed. The name of the team I am honored to coach is "The Resistance!"
Our name is inspired by a message I learned some time ago from Martin Rooney of Training for Warriors at one of the many conferences where I have seen him speak. He spoke about how we as fitness professionals have to be the Resistance in the battle fighting obesity and inactivity. I heard the message loud and clear, and as a good soldier I work very hard to carry out those steps to help people avoid debilitating diseases and conditions.
But here's the thing: you don't have to be a fitness pro to be a part of the Resistance in this battle that the fast food, digital entertainment, and booze industries are currently winning. We can help each other battle against habits and behaviors that lead us down the road to a hospital or worse.
Four Ways to Join the Resistance Against Inactivity and Poor Nutrition
Are you up to the challenge of being a part of the Resistance? Here are four powerful ways you can join the fight:
Take action. Nothing is ever accomplished without taking action. Choose to be an agent of change and do something about it! TALK is cheap; ACTION pays the bills, so to speak. To be a part of the Resistance requires all of us to stop holding back, for whatever reason, and take the steps necessary to help.
Lead by example. I am from the old school when it comes to this concept, and believe that you have to walk the walk to truly inspire people to be the best version of themselves. I don't think the "do as I say, not as I do" approach is very effective in this situation. Think of it this way: you probably wouldn't have a bankrupt accountant do your taxes, right? When others see and witness that you practice what you preach, they are more apt to follow.
Recruit others. This battle will be a long and difficult one; we are going to need more soldiers to spread the message and reach more individuals. We have an awesome tool to help recruit others; feeling great and high energy is contagious! When you start to make positive changes and begin to feel great, your energy will spread like a wildfire, and you will want to tell more and more people how things can be if they join the Resistance and make those healthy lifestyle choices. Every person who dumps the fast food for whole foods, is a win for the Resistance. Every person who chooses to go for a walk with their family instead of binge-watching another season of The Office on Netflix is a win for the Resistance and you can help make that happen for others and with others.
Share your story. One of the most powerful ways to be a part of the Resistance is to share your story of battling against the forces that consume so many. We all have a unique story and perspective that can possibly resonate with someone and create change. When those who are struggling hear your story and realize that change can happen because it happened for you, that can inspire them to take that first step in creating change. And then, they begin the cycle again by taking action, leading by example, recruiting others, and sharing their story!
We can win the battle and take everybody to the promised land of feeling better and living longer, happier lives. Join these 10 teams as part of the Resistance and be an agent of change in someone's life. If we band together, we can help so many in the battle against disease, unhappiness, and feeling lousy. Join the fight TODAY!
This blog was written by Tony Maloney, ACSM Certified Exercise Physiologist and Fitness Center Manager. To find out more about the NIFS bloggers, click here.