Sleep can be a wonderful thing. Then again, when we oversleep, we sometimes feel more tired than we were when we went to bed. Is Mr. Sandman playing a prank on us, or is sleep even more of a mystery than we're led to believe?

I enjoy my recommended 7 to 8-hour snoozes each and every night. For the average Joe and Jane, many studies link sleep deprivation to brain function, hunger control, and disease and illness prevention.
How Much Sleep Does an Athlete Need?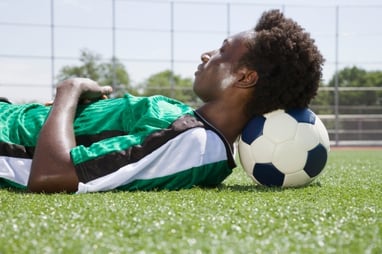 The question I have is, "Do athletes and individuals with higher fitness aspirations need more, less, or the same amount of sleep as everyone else?" Although not many studies have been conducted on the topic, the Gatorade Sports Science Institute published an article entitled "Sleep and the Elite Athlete" that talks about sleep deprivation in depth.
The article is somewhat inconclusive in some areas, but it goes on to state that elite athletes can perform, but begin to decrease output at around 30 hours of deprivation. The main side effects were stated as being diminished cognitive capabilities. On a positive note, napping is encouraged for improved performance, even in sleep-deprived individuals. In summary, it's safe to assume that athletes need and benefit from sleep and naps just like everyone else (Halson, 2014).
How Can You Get More Sleep?
You may be asking yourself, "What can I do to maximize my sleep potential?" The answers vary depending on the person.
Know your body and your goals. Your goals, lifestyle, and demographic (age, gender, etc.) are the major factors of your individual needs.

Set the right mood by ensuring your sleep sanctuary is nice and dark, and free from distractions.

Try not to take your pre-workout supplements two hours before bedtime (the instruction/warning label will give you exact information on the subject). For that matter, any caffeinated beverages will hinder your ability to fall asleep.

Start a sleep journal to chronicle your sleep behaviors. Indicate duration of sleeps and naps, moods, exercise production, and eating patterns to determine what works and what does not work for you (Halson, 2014).
One thing that we know for sure is we need sleep to live. It's part of our everyday routines, just like eating food and blinking our eyes. Trying to make sleep a priority isn't an easy task in this fast-paced society that encourages overtime and pushing deadlines, and puts rest, relaxation, and recovery on the back burner. In

a previous post

, we found that sleep, along with exercise and nutrition, is one of the pieces to our fitness puzzle. Without it, we cannot see the entire big picture.
You can improve your fitness results with a healthy sleep schedule along with exercise and nutrition. For more about the positive impacts of sleep, contact an HFS at NIFS to discuss a sleep game plan. Lastly, take time for a nap; all the cool kids (at least those aged 0 to 5) are doing it!
Until next time, REJOICE and EVOLVE.
This blog was written by Thomas Livengood, Health Fitness Instructor at NIFS. To find out more about the NIFS bloggers click here.