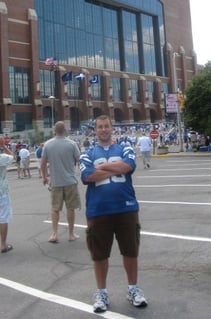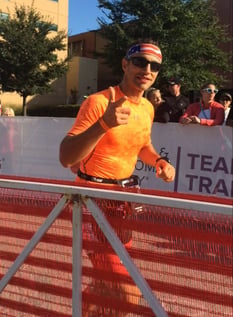 Longtime NIFS Mini-Marathon Program leader Nick Iaria shares his personal story about the NIFS Mini-Marathon Training Program, his fitness changes, and his path to completing an Ironman triathlon.
How long have you been involved in the NIFS Mini-Marathon Program, and what made you decide to join?
I joined in 2009 as a participant, not a leader. I was a part of the run/walk group, and up to that point in my life had never completed a distance over 5 miles. Since 2010 I have been a group leader in the run/walk group and have transitioned to different time-specific groups over the years (11-minute, 10-minute, etc.).
I found out about the program from my then girlfriend, now wife, who was an intern at NIFS, and she was joining as a run/walk leader. I think I joined not just because of her, but because I was interested in finding out if I could do it. I don't think I would have just gone out of my way to train for it on my own. I needed the knowledge and experience that NIFS gave in the training program format to get me started.
Since being a part of the program you have gone from the run/walk group to, in 2017, leading the 8:30 pace group. How did you manage to increase your speed?
I would like to say I did X and then Y and that led me to Z, but that isn't how it worked. I am not sure what path got me here, but I think I just had a desire to improve and to continue just for the purpose of continuing. I do think that a large improvement came in the form of my mental training over the years that became a critical step in enhancing my physical development, which led to an increase in speed. It was never really my goal to get to a certain pace or speed; it just kind of happened.
Another key ingredient is core body strength. By improving the strength of my midsection and upper legs over the past two years, it has helped in pushing through the "I want to slow down" or "full-out quit" moments. The mental/physiological improvements I have made within myself—where I believe more in myself and I learn to listen to my body and learn from past mistakes during runs or events where I didn't do the right things along the way—has been a key part of my success. I don't take anything as a failure, just a learning opportunity for the next time.
FIND OUT MORE ABOUT THE PROGRAM AND GET REGISTERED TODAY! EARLY BIRD PRICING THROUGH NOVEMBER 30, 2018!
Why do you enjoy running?
Until recently I have never considered myself a runner; I always considered myself a jogger. However, the stronger and longer I go, the more I feel like a runner. I enjoy it because I can do it whenever (early morning, evening, etc.) and wherever (outside in the elements or inside on a treadmill, etc.). I don't need anything besides a good pair of shoes and sometimes some good music to get me started or keep me going. It is something I can do alone or with other people. It is versatile as I can go different speeds or distances, and it is easy to track both with different forms of technology so I can track my results as I go.
Last year you were a Mini-Marathon Ambassador. What did that mean, and why do you love the Mini-Marathon so much?
I felt really honored to be a part of the program's first year. There was an amazing group of 32 other people from all walks of life with different Mini experiences. Getting to interact with them and being able to help others who had questions or needed advice on the Mini made this year's race that much better when I rang the PR bell at the finish.
My love for it came with my first time back in 2009. I was in a car accident (not my fault) 2.5 weeks before the race and had 5 stitches put in my knee. They were taken out the Monday of race week. I went back and forth all week about whether I should even do it, and that went all the way up to the morning of the race. For some reason I thought I could deal with the pain and still go out and run/walk the full 13.1 miles, but only made it through 4 miles. I knew I had to walk in order to finish and I WAS GOING TO FINISH. Walking the next 9 miles was really fun (and a bit painful) to be walking and interacting with all the different walkers and groups on the side of the road/track cheering us all on. My experience would have been different if I wasn't walking and taking it all in. Plus, I ended up posing for one of the photographers on the track and ended up on one of the 2010 Mini advertisement posters, so that was an unintended perk, too.
What advice do you have for individuals just starting out or thinking about training for a half marathon?
If it is something that interests you or if you are looking to see how far you can push yourself, I know that feeling. I went way outside my comfort zone recently when I signed up for a full Ironman triathlon (that's 2.4 miles of swimming, 112 miles of biking, and 26.2 miles of running). It was way outside my comfort zone since I had never swum that far, never biked that far, and had only completed 26.2 miles twice previously at an average completion time of around 6 hours, and it was a struggle just completing the 26.2 miles, so combining all those into one day seemed unattainable. But I told myself there is only one way to find out, and with the support of my friends and family, I signed up, got a triathlon training program, and on October 9 I reached my goal and crossed the finish line.
So, that is my advice: If you are thinking about it, then you probably already want to do it, but just need that confidence or something that helps you to convince yourself that you can reach that goal. I know that you can do it, no matter your level of experience or age. I would say join a program like I did when I joined the NIFS program back in 2009. It will help in learning what to do and when to do it, plus it will help provide that accountability from start to finish for you. The finish line doesn't care if you run, jog, walk, or roll across it; it only cares that you cross it.
***
Congratulations, Nick, on a wonderful accomplishment! And thank you for your continued dedication to the NIFS Mini-Marathon and 5K Training Program. If you have been thinking about competing in the Mini-Marathon or any other spring half-marathon, or training for a 5K, registration is now open for these NIFS programs. Sign up here!
This blog was written by Amanda Bireline. To find out more about the NIFS bloggers, click here.