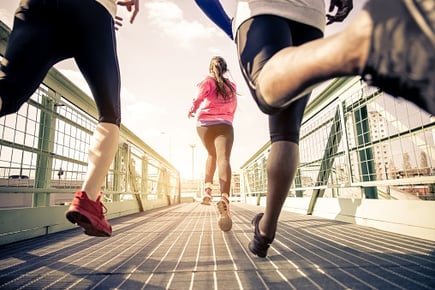 Having strong glutes is essential for reducing your risk of injury and preventing lower back pain. Those muscles help protect your knees while walking and running, they help you with your speed, and they stabilize the entire leg. Without strong glutes, the entire lower body may fall out of balance causing other injuries
I could talk all day about this group of muscles, but instead I'm going to show you three simple exercises you can do anywhere to help strengthen them.
These exercises are just general recommendations, and you should never feel any pain. If you are experiencing pain, recovering from an injury, or need a modification make sure to talk with a NIFS Fitness Specialist in the fitness center downstairs.
For all of these exercises, complete 10-20 reps 2-3 times 3 times a week.
Exercise 1) Curtsey Lunge—Begin standing with your feet under your hips and hands on your waist. Cross your left leg behind your right, bending your knee and lowering down into a lunge position. Drive through your front heel as you stand and bring your back foot to starting position. Repeat on the other side and continue to alternate.
Exercise 2) Glute Bridge—Lie flat on your back, feet flat and hip distance apart, knees bent and arms down at your sides. Position your feet as close to your bottom as possible. Drive through the heels to lift your hips up to the ceiling. Hold for a count of 2, then slowly lower down to starting position.
Exercise 3) Side Lying Diamond Leg Lifts—Lie on your side with your body in a straight line.
Bring your feet together and your knees together, your knees should be slightly in front of your body. Rest your head on your hand or lie down. Gently open your legs like a clam then close them for one rep. Repeat on the other side.
While getting in the miles is very important when training for a half marathon, it's essential to balance your running routine with adequate stretching and strength training exercises to keep your body in good running condition. This will help prevent injuries and you will feel strong as you cross that Mini Marathon Finish line!
Fore more glute exercises see our blog, Are You Glute-n Free.
Comment in the comment section below with some of the exercises you incorporate into your running routine!
This blog was written by Tara Deal Rochford, nutirition specialist. Follow Tara on her blog, Treble in the Kitchen. To find out more about the NIFS bloggers, click here.