It's that time of year again. The NIFS Mini-Marathon Training Program has officially begun!
Each year NIFS hosts a Mini-Marathon Training Program for NIFS members and non-members. The program consists of 14 weeks of in-depth, hands-on fun and memorable training that prepares runners and walkers to complete the Indianapolis Mini Marathon in May. Because there are different pace groups that individuals can join, the training
program is perfect for runners and walkers of all levels.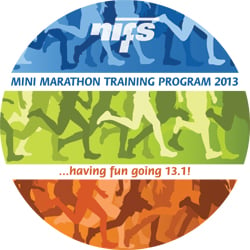 The program takes place on Wednesday evenings at 6pm at the NIFS location in downtown Indianapolis and at Cherry Tree Elementary School in Carmel.
Wednesday, January 23, was the official orientation and kick-off for the Mini-Marathon Training Program. Participants at both locations were able to enjoy a race expo with plenty of booths and samples to go around. Some of the booth sponsors were Mudathlon, Whole Foods, Geist Half Marathon and 5K, and Runners Forum. Goodies, samples, shirts, and information packets were distributed to everyone who attended.
After the participants gathered their information and samples, the Runners Forum hosted an educational discussion about proper footwear and appropriate dress when running in colder weather.
The representative from Runners Forum made it clear that all of his employees are very knowledgeable about running and leading an active lifestyle. He encouraged everyone to stop into Runners Forum for all of their running needs because the staff would be able to answer any questions about gear, plus they have a wide variety of items to prepare runners when training for endurance sports. He also mentioned that they are offering a 10% discount to all NIFS members!
Saturday, January 26, Runners Forum hosted a NIFS night from 2 to 4pm at the downtown location across from City Market, and from 6 to 8pm at the Runners Forum Carmel location. This event is exclusive for NIFS members, allowing shoppers to have the undivided attention of the Runners Forum staff members and receive special discounts.
If you have any questions, reach out to Stephanie Greer at sgreer@nifs.org or 317.274.3432.
Written by Tara Deal, NIFS Group Fitness Instructor and author of Treble in the Kitchen.