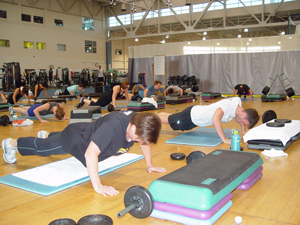 Taking any class for the first time can be terribly intimidating. You aren't quite sure where to start, where to stand, what equipment you'll need, if you are fit enough, and so on. What was supposed to be an energizing and stress-relieving workout session is now giving you a nervous stomachache! Here are a few easy steps to ease you into your first class.
1. Introduce Yourself to the Instructor
Introduce yourself to the instructor and let him or her know it is your first class. In most cases, the instructor will probably recognize that you are new and take the first steps. But sometimes as instructors, we can get distracted. The instructor will be able to tell you exactly what equipment you will need and what to expect. Your instructor is key to making the class a success. If he knows it is your first class, he will be sure to cue extra options (both higher and lower intensity) to make sure you can work out at whatever fitness level you are currently at.
2. Meet Your Fellow Fitness Participants
Introduce yourself to someone standing next to you. Group fitness participants are generally by nature social people. The idea of running solo on a treadmill is not our idea of fun, but working out with others, being pushed and motivated by the music and the people around you? Absolutely! Your fellow classmates will have valuable information on how to handle the class, and probably the instructor. They will fill you in on all of the details the instructor left out—like how the day after your first BODYPUMP™ class, your thighs cry a little when you try to walk up the stairs! (Don't worry, that goes away after the first few classes. You get stronger quickly!) Remember, they had a Day 1 at one point, too, and have stuck with it, so they have the inside track.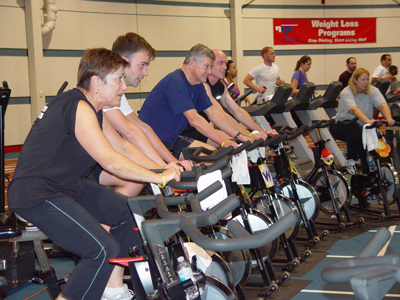 3. Try Three to Five Group Fitness Sessions
Try a class three to five times before deciding whether it's for you. Each group fitness class has its own skill set and its own learning curve. Go in prepared to learn and try something new. For example, if you are taking a cardio class set to music (such as BODYCOMBAT™ or Step), you will have to learn the moves first before you can really rock out. To get the most out of strength-based classes (such as BODYPUMP™, Boot Camp, or other circuit style classes), you will need to learn where you are strength-wise so you can correctly choose your weight selections. These things take time and experimentation. Allow yourself the time to learn the moves ana, or Step), you will have to learn the moves first before you can rd assess your strengths before deciding whether the class is for you.
That's it! Three easy steps and you are on your way to becoming a group fitness rock star! Check out the Group Fitness Schedule and pick a class to attend this week. Follow these three steps and soon you'll be as confident as the other members of the class. Then one day, someone will introduce themselves to you as a new participant and you'll have the opportunity to pay it forward!
This blog was written by Tasha Nichols, Group Fitness Manager and Program Coordinator at NIFS and a Les Mills US National Trainer. Meet our NIFS bloggers.