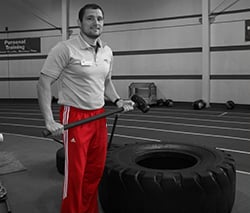 "No Pain, No Gain." This motto has been forever linked to wellness and fitness. We know that without a little struggle, there will be no progress, but is it really necessary to "bring the pain?"
We do know that when we workout, we create muscle soreness. This is, in part, due to overload of the muscle during exercise or even creating very small tears in the muscle fiber. There is good news though! Your body will repair these muscle tears and become even stronger, allowing you to better handle the workloads of your future workouts.
A concern does arise, however, if significant and repeated tissue tearing is happening frequently; a severe injury or tissue damage could take place. (See this article for more on the hazards of overtraining.) To prevent this from happening, you can start one of several pre-workout rituals, including foam rolling and dynamic stretching. A post-workout stretching is also equally important followed by good nutrition and adequate rest.
Creating a plan of action with a fitness specialist or personal trainer will help you develop a workout that is appropriate for your goals! Yes there may still be some pain at times but it's the gain you'll remember.
Evolve and rejoice,
Thomas
This blog was written by Thomas Livengood, Health Fitness Specialist at NIFS. To find out more about the NIFS bloggers click here.