Greetings everyone! Slim It thus far has been an exciting experience for me and for both of my teams! I have been blessed with having not only one but two teams due to the high number of requests from individuals wanting to join this year. I will highlight my Monday and Friday team this week. Be sure to look out for my blog about my Tuesday and Thursday team in the near future.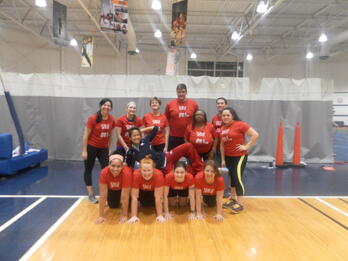 My M/F team is doing a great job with the exercises that I have been giving them and familiarizing themselves with the structure of our workouts. A few of them have worked with me before in previous programs or through personal training. It is nice to see familiar faces and at the same time getting to know other members. They have adapted well to other trainers and continued to attend those sessions. Many have experienced soreness, which is common during the beginning weeks of a new program. We are currently thinking of a team name and plan to have one by the end of our third week.
The weather hasn't been cooperating as much as we'd like; therefore, some members were unable to come in. Overall, the program has been challenging in many ways and I plan to continue to motivate them to incorporate a healthier lifestyle and to reach their Slim It goals!
Here's an interview with one of my team members:
1. Share your story or a bit about yourself in a few sentences:
My name is Jenna Looney. I am 29 years old and have lived in downtown Indy for 1 year. I was a special education teacher and I recently switched to the field of educational technology. In this role I am far less mobile and active at work, but I LOVE the job. I miss the interactions with kids and being active throughout the day. I love travel, Mexican food, reading, being outside, the Pacers, rehabbing furniture, music, dancing, and overall FUN!
I have watched the scale go up and down over the past 10 years in some pretty dramatic swings. I am looking to find a realistic, healthy, maintainable weight and stick to it. I found I felt too busy for exercise or for healthy eating, but I realize it will only get more complicated and busier if I have a family. I want to get it under control now and stop making excuses. I worked with Crystal for about three months prior to starting Slim It and have had positive and exciting results in combination with diet*. I am also currently in the run-walk group for the NIFS Mini Marathon Training Program.
2. NIFS Programs you've participated in:
I am a member at NIFS and participated in the Mini Marathon training last year and am doing it again this year. I also started using personal training sessions.
3. Why did you join this program?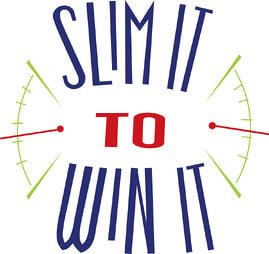 I enrolled in Slim It to Win It for three reasons:
Groups motivate me to stay strong and committed.
I could pick to work with Crystal and I felt she would bring a challenge, yet she knows me from training so I am comfortable with asking her questions, etc.
I want to continue to work toward my goals of better health and weight loss—I want to look good by my 30th birthday.
4. Something you've enjoyed:
I have been surprised with how exercise really does help relieve soreness—but goodness, it's hard to force yourself to exercise when you are incredibly sore from a tough workout.
5. Something you have learned or something that surprised you:
Something I have enjoyed: In my one-on-one sessions with Crystal I have loved (and sort of hated) the metabolic ball throws and slams. I love them because I feel the burn and my heart races, so that also makes me hate them. But ultimately I know these bring results, so I love them.
We have incorporated a variation of these metabolic exercises already in our group training and I look forward to more—oh gosh! I cannot believe I just typed that!
6. Favorite exercise from one of the workouts:
BOSU mountain climbers. I don't really love these because they feel a tad like push-ups, but I guess I like that I have progressed to be able to use the BOSU in mountain climbers and hold it for extended periods while in the push-up/plank position. I knew I was getting stronger when I could do this because it almost killed me the first time I tried it. I like seeing myself get stronger.
7. What accomplishments you have achieved during your training?
Since starting training with Crystal prior to Slim It, I've lost 6.5% body fat, gained 6.9 pounds of lean muscle, and have gone down a rating for body fat in three months*. I am excited to continue to decrease my body fat and see less jiggle and wiggle in my gut.
8. What struggles have you encountered? Tips you have learned along the way?
Challenges: When I've had a bad day or have had a great day worth celebrating, I find it hard not to want to go out to eat and eat and drink to celebrate or to make myself feel better. To combat this: If I come to the gym I feel better when I'm done. The biggest battle is making myself go—once I'm in the gym it's rare that I don't leave feeling better and fulfilled. I'm not perfect at this, but it's better than it was...
9. How do you stay motivated?
By not quitting if I slip up in my diet, and pushing through excuses and reasons to skip a workout. Also remaining focused on my next goal, 10 more pounds...
10. Any other thoughts?
I love the staff at NIFS. They're all awesome. I love Crystal and want to thank her for supporting me and helping me make the progress I have. I'm excited to continue my progress!
Training with a group is a proven strategy for sticking with a workout routine and is more economical than one-on-one training. If you are interested in trying a small group or large group training session contact Tony Maloney today to get started!
*Weight loss claims and/or individual results vary and are not guaranteed.
This blog was written by Crystal Belen, NIFS Heath Fitness Instructor. Learn more about the NIFS bloggers.