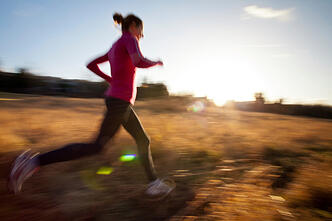 If you are like the majority of Americans, your work is strongly reliant on the use of computers, smartphones, webinars, and other electronic devices and digital technology. Along with this, the use of social media, text messaging, and email to interact with our friends and family is also at an all-time high—not to mention the number of hours spent in front of a television. With the combination of these things, the need to unplug from our technology has never been greater.
Fitness Centers Are Full of Technology
Take a look around your fitness facility or your home gym and count the number of devices that incorporate technology, along with the technology that you carry on yourself while you exercise. Your cardio pieces probably have a television; your gym may have an electronic device that tells you which machine to move to next, or even an electronic personal trainer. Along with this you have your smartphone attached to your arm listening to music; checking email; and texting your friends, family, and colleagues telling you how many more steps you need to take. It is time to unplug!
Get Outside and Unplug!
With all of this technology constantly bombarding me, I find that one of the greatest perks about going for a run outside is actually being able to unplug from all of this. It is one of the few opportunities left in my day where I can truly unplug with no distractions. Not only do I get to enjoy the weather and scenery, and reap the health and fitness benefits, but now I also get a break from technology! Don't get me wrong, I enjoy all of the benefits that technology has brought to our world, but I still believe that having time away from it and actually interacting with others needs to be a priority.
Being unplugged has also brought me closer to friends and introduced me to new friends who share my passion for being active. Sure, I still send my running buddy a text message or give her a call, but it is generally to arrange a time for us to meet for our next run, where our real conversations happen.
I know what many of you are thinking: "There is no way I could run without my music!" Yes, listening to your music does count and I know many of you like to "zone out" with your music, but try running without it for a few weeks. The first few runs will feel very off, but after a week or so I guarantee you will start to enjoy taking in what is around you and enjoy the break from the constant stimulus that technology feeds you all day.
My advice to you is to use running or walking outdoors as a means to unplug from technology, and use that time in your day to either be with yourself and take in the outdoors or spend it with others who also want to be active and are looking for a way to unplug. If you think going for a run or walk on your own is boring or that you need music as a distraction, consider joining a training group, where you will have the opportunity to run and walk with others, bringing back social interaction outside of technology. You would be surprised by the number of connections you can make if you take some time to unplug and interact with others.
This blog was written by Stephanie Kaiser, Fitness Center Manager. To find out more about the NIFS bloggers, click here.