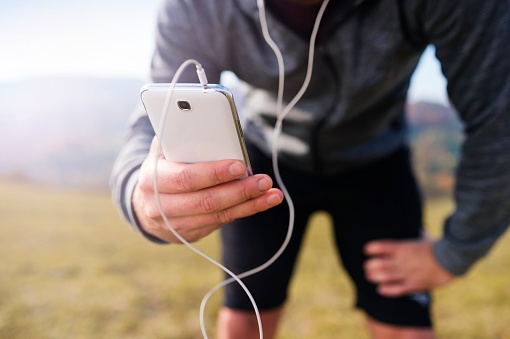 Salutations, NIFS friends. Picture yourself running across the finish line or standing on the winner's podium at a major marathon event, scoring a touchdown in the Super Bowl, or even finishing up your final set of EZ Bar preacher curls. (Wait, what was that?) Now that you are wondering what I am getting to here, I must say that all three of those events have something in common, and that is the accompaniment of music.

Do music and fitness go hand in hand, or is the connection overdramatized in television and movies? One thing I know for certain is that when I work out, my music motivates me to sometimes give another rep or stick to my plan, when otherwise I could just as easily pack it in and go home. Here I would like to explore the undeniable links between fitness and music.
The Connection Between Music and Work
Although fitness, as we know it, is a relatively new industry, music and song have been intermingled with work (physical labor) since long before recorded history. There have been articles and studies such as "Let's Get Physical: The Psychology of Effective Workout Music" in the Scientific American online magazine which reiterate that music played in the workplace and workout place contributes to a more productive environment.
This question has even made its way to the world's stage, where individuals are prohibited from using personal music devices while participating in Olympic events because it has been shown to provide an "athletic edge" over non-music-listening competition. In essence, working out at the gym isn't much different than many manual labor jobs, so it would make sense that the same benefits of music to workers and laborers would affect people who work out. Hard, driving beats in the music almost illicit our caveman/cavewoman mentality… beat the drum fast, work fast (Jabr, 2013).
Relaxing Effects
Music can also have a second effect on fitness. Many times it is used as a way to relax and meditate. Soothing ocean sounds make for enough peace and serenity to almost transport you 1,000 miles away to a sunny beach. An example of this type of music takes place in yoga class. The movements of yoga are slow and steady, yet precise. Calming music allows the mind to connect with the body, creating a relaxing atmosphere.
There is the dilemma; not every person wants to "head-bang" to heavy metal at 6 a.m., and not every person wants to take a 30-minute siesta to the sound of trickling water from a creek when their final set is about to go down. In fact, some people prefer that it be completely quiet, because it may be the only time of the day that they get away from the various noises and commotions that accompany day-to-day life in the big city. That's precisely why the Sony Walkman was introduced in 1979 (and the modern MP3 version, of course); a milestone in human achievement. These devices are great for the music aspect, but not as great for communication and human interaction.
What Music Gives You Motivation for Workouts?
What music gets you pumped or soothes your soul? I know what is on my Top 10 playlist, and it consists of plenty of variety (but always starts and ends with something from the Rocky soundtrack). There are others, of course, but all in all, it's what drives and motivates me to work out.
NIFS, not surprisingly, has music in nearly every group fitness class, and in the free-weight room. In adherence to the idea that "not everyone wants to hear your Mega Mix Tape Vol. 2," the fitness center is limited to personal listening devices only. In the comments, please share what music you are listening to right now to help you get through your reps and sets, or even your day.
Rejoice and Evolve,

Thomas Livengood
This blog was written by Thomas Livengood, Health Fitness Instructor at NIFS. To find out more about the NIFS bloggers click here.