Transitioning has been called the fourth discipline in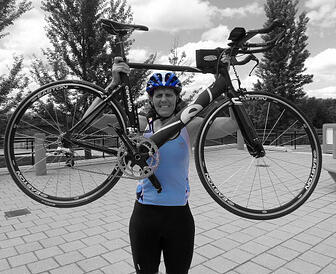 triathlon. When you finished your first race and looked at the breakdown of the times for each event, you probably noticed the T1 and T2 times. T1 is the time it took you to go from swimming to the bike, and T2 is the time it took you to go from the bike to the run. Like the swimming, biking, and running training, the transitions should be trained as well. But don't think you need to spend hours perfecting getting from one event to the next. A good transition can simply be added to the other brick training sessions.
Before the race you need to check where you will be exiting the water and follow this to your bike. You can mark your transition spot with chalk on the ground, with a balloon, or with a bright towel. The transition area looks different when everyone is out on the course. Many athletes have wandered transition areas looking for their gear. Also look at the course from where you will be headed at the end of the bike to your transition spot. You will rack your bike and put your gear down on the side of the bike you will mount from.
Practicing the Swim-to-Bike Transition (T1)
The swim-to-bike transition is often the most difficult transition to practice because of the logistic of getting to the water (pool or lake) and then keeping your bike close to make this practice possible. Instead, you could just practice getting your bike gear on after stepping your feet in water. Putting on socks is often the toughest part of this as you deal with balancing while tired and getting the sock on without getting sand on the sock. Many people will sit on the ground or bring a big bucket to sit on.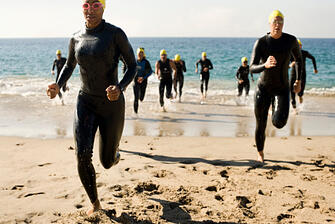 During a race I try to dry my feet with the end of my transition towel (placed before the race) or have a small towel to dry the tops of my feet while standing on my transition towel. You do want to make sure not to have any rocks, sand, etc. on your feet as those may cause a blister.
You must have your helmet on and buckled before you get out of transition, so do this first or directly after getting your shoes on. This is also a good time to get a drink of water and have a gel or other nutrition so you don't have to try to ride and eat.
Once you get off your bike, you will run your bike back into your transition area. Rack your bike as close to where you took it off as possible. This is a rule, but it also helps you be courteous to your fellow triathletes who are racking after you.
If you change your shoes, have the laces open and ready to slip your feet into quickly (baby power can help with this).
Grab hats, sunglasses, and race belts and put those on as you run out of transition. Again, you could get a drink or nutrition if you need it. The gels or chews can be pinned on your race belt to have along the course.
Practicing the Bike-to-Run Transition (T2)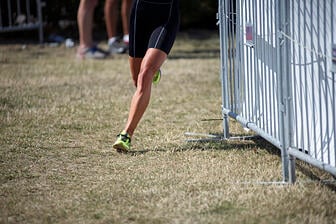 The bike-to-run transition is easy to set up and a nice way to do some race preps the day or two before a race. Follow these steps:
Set your bike against a wall or car, WITH THE SIDE YOU WANT TO GET ON YOUR BIKE FACING OUT.
Place your shoes, helmet, hat, race belts, sunglasses, etc. near the bike.
Figure out in what order you will put on your bike gear and practice it. Put on your helmet, socks, shoes, etc.
Grab your bike and RUN, HOLDING THE BIKE WITH THE OUTSIDE HAND (no need to run with two hands on the stem) to your marked start point
Get on your bike.
Ride a short distance (less than a mile).
Get off your bike at your marked spot and run your bike back to your setup spot.
Take off your helmet, change shoes (if necessary), grab anything you want for the run, and run a short distance, getting into a nice rhythm.
Repeat as many times as you need to feel confident.
Putting in a little transition practice time during your regular workouts will help you cut your total time in your triathlon. As you are trying to beat your time from before, this will help more than you realize.
NIFS' Tri-Training for Women triathlon training program has recently begun. Find the details here.
This blog was written by Kris Simpson BS, ACSM-PT, HFS, personal trainer at NIFS. To read more about Kris and NIFS bloggers click here.