This is my first year being a Slim-it to Win–It coach and my team, Shelli's Hard Bellies, and I are having a blast!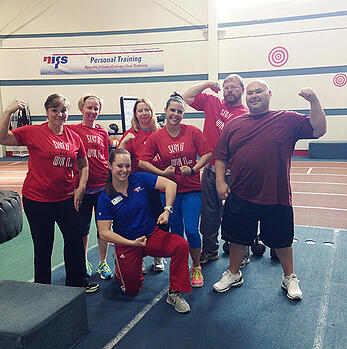 Over the past several weeks we have had some ups and downs with teammates being sick and/or injured but no one has given up!
During this program I have tried to spice up each workout utilizing the equipment all over the gym. My team hasn't loved the sleds at times but understands the importance and major benefits of them.
One of my favorite workouts I have done with Shelli's Hard Bellies is the DOC (Desk of Cards) workout or "The Card Game." I love this because it is fun to do and can be done with any age and ability level. It is also a great way to mix strength training and cardio into one kick butt workout.
Start with a deck of cards and give each suit an exercise. Have fun with this, you could choose all body weight exercises, all strength exercises or list two options for each suit.
Examples are as follow:
Diamonds: Push Ups
Spades: Goblet Squats (Add Jump)
Hearts: TRX or Barbell Row
Clubs: Push Press
When it comes to the face cards, either simply make Jack=11, Queen=12, King=13 & Ace=14 or make it even harder! I usually do the indicated amounts plus extra exercises on top of it all. Face card are worth more so why wouldn't they be the hardest part of the workout.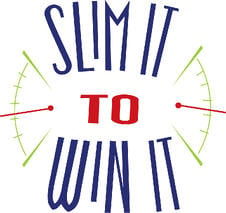 The last time we played I made Ace the exercise listed above PLUS jog 1 lap around the In door track, King, as listed, PLUS 30 seconds of plank, Queen, as listed, PLUS 30 seconds of Mt. Climbers, leaving Jack as listed, PLUS 10 Burpees. I left the jokers in there too and that indicated a small rest period where the team could grab some water.

Needless to say, this was a tough workout but they loved it! I plan to do the DOC workout again before the end of the program but all the exercises will be different so ensure the element of surprise!


Thanks, Hard Bellies, for working hard throughout this entire program!
I hope to see you all consistently after Slim-it to Win-it wraps up to ensure continued results.

Training with a group is a proven strategy for sticking with a workout routine and is more economical than one-on-one training. If you are interested in trying a small group or large group training session contact Tony Maloney today to get started!

This blog was written by Shelli Kopetsky, NIFS Heath Fitness Instructor. Learn more about the NIFS bloggers.