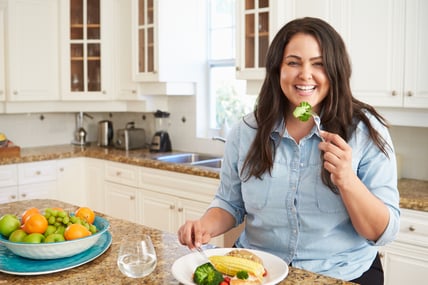 You've told yourself that it would just be one "cheat meal," but the next thing you know that one meal turns into everyday meals and you feel like you have fallen so far off the wagon that there's no getting back on.
I'm here to tell you that LIFE HAPPENS, and it's okay occasionally to stray from a healthy lifestyle. What's important to remember is that the tools to hop back on and get back motivated are right at your fingertips, waiting for you to grab tight.
Here are 7 tips to get back on track and keep moving forward:
Don't take it so personally. You're not a bad person or destined always to be overweight just because you slip up here and there. Just think of it as a minor setback for a major comeback!
Don't look for a quick fix. You might lose weight this way, but you're almost sure to gain it back. This has the potential to set up an unhealthy pattern of gaining and losing. Slow and steady wins the race!
Find an accountability partner. This can be someone who is just starting out, or starting back over, or an experienced, never-falls-from-the-wagon person. Finding someone who can provide you encouragement for your efforts will help you continue down the right path. Be sure to be upfront and honest with them about your goals and have them check in on you regularly.
Plan ahead. We schedule meetings, and hair and nail appointments for ourselves; why not schedule a time out of our busy days where we can exercise? Even planning your meals ahead can help with overeating and you won't get too hungry throughout the day.
Track your food. Keeping an account of exactly what it is you eat throughout the day helps keep you honest and aware. It will help give you insight on your eating habits and where you might need to give a little.
Understand you're not alone. Thinking that you're the only person in the world who has fallen off the wagon will achieve nothing but negative thoughts and make it even more difficult to get started again. Somewhere, some place, someone is going through the exact same thing you are or they've been through it before. You're not the first person to have to start back over, and you certainly won't be the last.
One day at a time. This tip needs to be bold, underlined, highlighted, and anything else to grab your attention! Taking this journey one day at a time is so critical to your success. All you need to do is try. By doing your best each day, you've put together a chunk of how your future will look.
While it might be tough, it is definitely not impossible to get back on track. If you aren't sure where to start, come in and talk to us. We would love to get you set up with one of our personal trainers, enrolled into a program like our Ramp Up to Weight Loss, or simply design a program for you to follow on your own. Whatever you feel you need, we are right here to help you!
You've got this!
This blog was written by Ashley Duncan, CPT, Weight Loss Coordinator. To learn more about the NIFS bloggers, click here.