Oh, the comfort zone. They call it that for a reason, obviously. It's cozy in that self-imposed zone; it's safe and reliable. If most things were defined as such, we would consider them good things, right? I will weigh in here and say yes, but this imaginary comfort zone could be one of the most dangerous places in your life.

Janet Fitch said, "The phoenix must burn to emerge," meaning that you must fail before you can achieve. But you must try before you can fail, and chilling out in your comfort zone time and time again for fear of failure will keep you strapped down, not able to emerge as the true you. I know that stepping out of that comfy, feel-good zone can be pretty scary, so you're not alone. In a previous blog I discussed ways to be comfortable being uncomfortable, so what happens when real people reach their heights?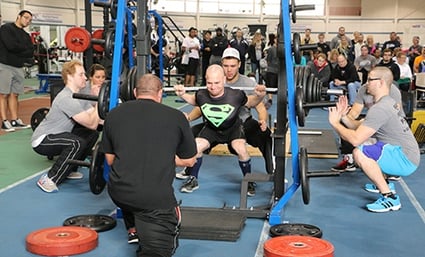 The Powerlifting Challenge
NIFS will soon hold its 6th Annual Powerlifting Competition, where individuals from all walks of life and all fitness levels come to see what they are truly capable of in relation to absolute strength. An even that has so many victories and so many lives changed in one single day. Individuals take that leap out of their comfort zones and put it on the line to test themselves—not against the competition, but against themselves.
What Past Competitors Had to Say
This event served as a first for so many competitors who wanted to test their courage and to fulfill a dream and a goal of being the best. They stepped out of their comfort zone, and this is what they discovered:
"Fitness, for me, has been a journey. I have ups and downs. But on that day, it was me and the weight. It was myself versus myself. I only cared about lifting however much my body could. It wasn't about 'beating' the other competitors; it was about making sure I walked away knowing I did the best I could." —Megan Gantner


"I loved how encouraging everyone was. Even though it was a competition, people were constantly saying 'you can do it' or 'great job.' High-fives were everywhere, and it was awesome." —Madison Stewart


"Some of the highlights were being around a lot of like-minded people, getting to test my strength, and pushing past my normal comfort zone. It really meant a lot to me to compete. I have been lifting weights for a very long time, but I had never actually competed any kind of weightlifting comp. Actually putting myself out there really paid off a lot for me." —Cody Martin


If you have been thinking about taking the leap and competing in this kind of a contest, this event is a perfect one to get your feet wet and see whether competing at this level is what you have been looking for. There will be a wide range of ability levels all trying to simply do their best and have some competitive fun at the same time.

NIFS 6th Annual Powerlifting Competition will be held on November 9th. The first step to getting out of your comfort zone is to get registered today!

This blog was written by Tony Maloney, ACSM Certified Exercise Physiologist and Fitness Center Manager. To find out more about the NIFS bloggers, click here.