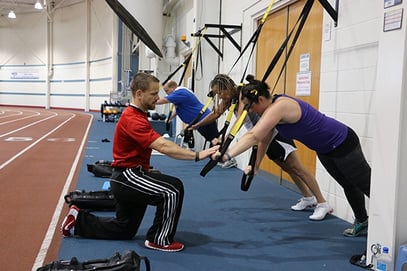 In the two previous installments of "Max Results with Minimal Equipment," we took a look at sliders and superbands, definitely two of my top "go-to" pieces of gear for when I need big results with small equipment. Now it's time to cover the big daddy of them all in the minimal gear, max results department: the TRX!
A great deal has been written about the TRX. The work done with the TRX has been huge in recent years, and it's no surprise that it's one of the top fitness purchases out there. I have been recommending the purchase of this system to anyone and everyone who will listen. I recommend that you add it to not only your at-home and travel programming, but also your everyday workouts. But considering we are discussing how to get results when traveling or when you can't make it to the gym, I will keep the awesome attributes specific to that.
Silly Rabbit, TRX Are Made for Everybody and Everywhere!
Here are the top reasons why I recommend this system as a must-own piece of equipment:
Portable is an understatement! Coiled up properly in its handy carry cinch-bag, the TRX becomes a small pouch that fits into any suitcase or bag.
The setup for use of the TRX is just as simple as it is portable. The TRX can be attached to a tree if you prefer to be outside. It can be attached to a power rack or cable cross machine. Or it can even be hung from your hotel door with a handy door-mount accessory.
When using the TRX to perform any movement, you are really using the entire body as well. Changing vectors and bases of support will challenge the entire system, no matter whether you are doing a bicep curl or a jump squat. The system will target your ability to stabilize the trunk in all movements that you perform.
The TRX can train mobility, stability, strength, and metabolic resistance. There are not many, if any, pieces of equipment that can do it all, but the TRX can. What separates the TRX from all other pieces is how quickly you can increase or decrease the intensity of the exercise. Just by changing your vector (a fancy word for angle), you can load up an exercise or make it a little easier for timed sets. A single TRX system allows you to target all facets of a solid training program.
Countless movement options. I can confidently say that you could rotate through the multitude of exercise choices you can do with the TRX and not see the same exercise for days. There is just so much you can do with just a single system! And if you didn't learn all you need to know from a

NIFS health/fitness instructor

on how to get the most out of this equipment,

the great people of TRX

have complied a mass of workouts and exercises you can use to get the results you are hunting.
My Favorite Movements
Here are few of my favorite movements with the TRX: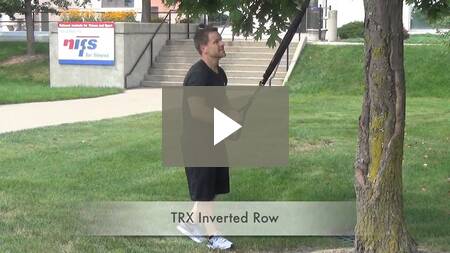 Top Workouts
Enjoy one of these workouts with the TRX:
TRX EMOM: Complete the following Every Minute On the Minute for 10 minutes.
5x TRX Rows

10x TRX Atomic Pushups

15x TRX Squat Jumps
TRX :45/:15: Complete the movements highlighted on the video in order for :45 of work followed by :15 rest.

This blog was written by Tony Maloney, ACSM Certified Exercise Physiologist and Fitness Center Manager. To find out more about the NIFS bloggers, click here.