Of course everyone knows that swimming is good for you. But what are the real benefits gained by jumping into the water?
Swimming Burns Tons of Calories
How many, you ask? Well, here are some hard numbers:
Calories burned in 1 hour for a 155-lb. person:
Lap swimming, slow: 493 calories
Lap swimming, fast: 704 calories
We Water jogging: 563 calories
Treading water, moderate: 281 calories
Treading water, fast: 704 calories
Swimming Works All Muscle Groups
Swimming uses all major muscle groups. Remember, working big muscles burns big calories! This means you are strengthening your arms, legs, shoulders, and glutes, and it gives you a good core workout at the same time.
Swimming Is Low Impact on Your Body
Because you are suspended in the water, your joints don't take the pounding they would on the ground or treadmill, plus the movement helps increase your range of motion. More range of motion means more muscle worked through that range, and yes, more calories burned!
Swimming Is a Refreshing Workout Any Time of the Year
The water in the competition pool at the Natatorium is kept between 75 and 79 degrees, the back pool is kept at 85 to 88 degrees, and the diving well for aqua fitness classes is kept at 85 to 88 degrees.
In short, there are few exercises that can give you the workout swimming can. If you have not found a love for kettlebells, weight machines, or treadmills, take the plunge and see what swimming can do for you. You may find a whole new workout routine you enjoy and look forward to.
For additional health benefits read this article on Active.com, 9 Good Reasons Why You Should Get in the Pool.
Swim Drills Anyone Can Do
To get you started, here are some great swim drills you can try in the pool.
Stroke improvement drills (with pull buoy): The buoy is held above your knees and you work your arms and upper torso. You can also place the buoy at your ankles to feel your core and inner thighs work harder.
Kick drills (with or workout fins): Work on the leg/hip action while holding a kickboard. It may be slow without fins, but you get great singular-leg and cardiovascular work.
Side stroke: Lying on your side, down arm extended. Works your legs and core. Make sure you switch sides to get balanced work.
Intervals, fast length down the pool: Give yourself proper rest time to go fast on the successive intervals. As you improve, add to the number of intervals or go-down-and-back sprints.
If you are interested in lap swimming as part of your training, access to the IU Natatorium lap pool is now part of your NIFS membership! Click here for more info.
Also check out Aqua Bootcamp for A HIGH INTENSITY water fitness workout that gives you the CARDIO boost of the pool and the benefits of RESISTANCE training in the gym. If you are interested check in at the Natatorium desk before class or contact Kris Simpson at ksimpson@nifs.org or 317.274.3432 ext.211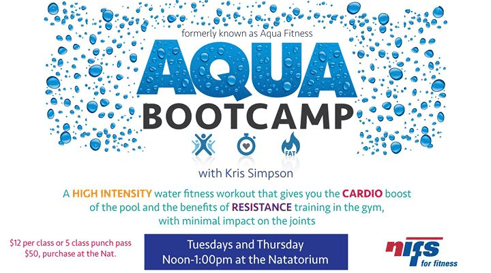 This blog was written by Kris Simpson BS, ACSM-PT, HFS, personal trainer at NIFS. To read more about Kris and NIFS bloggers click here.