Sunny days and warm weather are now upon us. It's hard to complain about a pretty day, except when you are confined to an indoor lifestyle or job. Outdoor fitness is exactly what you need to get rid of the blues, but I'm not talking about running or boot camp. Indianapolis is packed with fitness activities just waiting to be discovered. Parks throughout the city are highlighted by fitness trails, open fields, and accessibility. The opportunities are only increasing as we, hopefully, move toward a more health-conscious society.

In this blog we are going to think outside the box and explore some outdoor fitness options that are not only good exercise, but also fun and stimulating.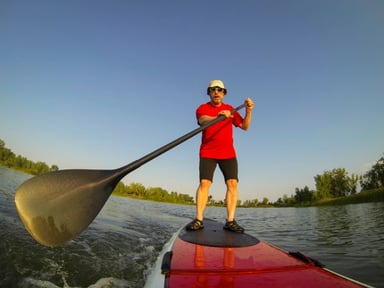 Paddleboarding
Paddleboarding, a mode of recreational transportation, has been around much longer than you might think. When it was first invented is undetermined, but evidence of its existence dates back to early exploration of the Pacific Ocean in the late 1700s by Captain James Cook.
Fast-forward a few hundred years and you will see paddleboarding nearly everywhere, including rivers, lakes, and oceans. Because it enables you to take in scenery and nature, paddleboarding can be both calming and serene. On the other hand, in some windy conditions, paddleboarding is completely challenging, giving the rider a great workout. Riding the tide for extended periods of time provides plenty of balance, core stability, and endurance opportunities for the aquatic enthusiast.
For paddleboarding in Indianapolis, visit local shops such as Rusted Moon Outfitters to see demonstrations and buy gear to satisfy your paddleboarding needs. If you are a beginner and would like lessons, another local company, Salty Dog Paddlesports offers not only training sessions, but also more advanced yoga classes on paddleboards!
Geocaching
Geocaching is a fun outdoor recreational activity that combines old-school orienteering and treasure hunting with modern GPS technology. The concept of geocaching is not new; following clues and landmarks to find hidden treasure has been around for a long time.
In this modern-day search for "x" on a treasure map, individuals use clues via internet videos or posts to find hidden packages or containers yielding log books to sign your name, often a small prize, or even another clue to find your way to another hidden site. The treasures aren't necessarily huge in size; the excitement comes from successfully navigating your way to the treasure. After the site is discovered, it is neatly hidden away so that another geocacher may discover it.
Because it usually takes place outdoors in rugged terrain and involving hiking and walking, a geocacher's main needs include comfortable clothes, shoes or boots, and a functioning GPS system. Most cell phones have GPS built in already, so becoming a geocacher is even more convenient than you think. Geocaching is happening in Indiana, and the Indiana Geocaching website is dedicated to it. There is plenty of information regarding upcoming events and links to other national geocaching clubs. Channel your inner Indiana Jones while you are actually in Indiana!
Disc Golf
One of the fastest-growing recreational sports and activities, disc golf is quickly becoming more than just a niche hobby. The concept of disc golf, obviously, is derived from traditional golf, including the terminology. Disc golfers typically throw one of their many discs (each one has specific characteristics, not unlike drivers, irons, and putters) from a tee box toward a basket on a pole. Score is kept with eagles, birdies, par, and bogeys.
Sprinkled throughout Indianapolis are several disc golf courses that offer a variety of challenges and an opportunity to experience some of the many scenic neighborhood parks that otherwise may go unnoticed. There is even a disc golf organization (Indianapolis Disc Golf Club) that holds several notable tournaments, bringing in top competition in the area and the Midwest.
Like all skill-based activities, disc golf requires practice time. This is easily countered by disc golf's relatively easy concept, cost effectiveness (discs are around 10 to 15 dollars, while courses are free), and inviting atmosphere.
***
If you are bored with your current situation or just want a fun activity for you and your pals, there are definitely some excellent options to keep you active and your brain stimulated. Whether you want to take on some waves with your paddleboard, track down a series of clues while geocaching, or take a stroll through the park while disc golfing, the landscape for outdoor activity is ever changing. Be adventurous this summer and try a new outdoor sport or activity today!
Rejoice and Evolve,
This blog was written by Thomas Livengood, Health Fitness Instructor at NIFS. To find out more about the NIFS bloggers click here.