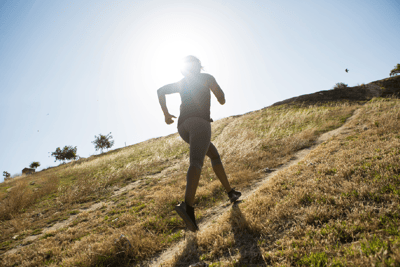 Fitness is a great tool to use to train the mind. Yes, often people work out for physical health, but exercise is also getting a lot of hype from psychologists. Many studies are proving that exercise and movement increase brain function, memory, and thinking skills. Not just that; the motivation, positivity, and strength learned and gained from an exercise session can all be used in daily life situations.
I began doing yoga and running in 2009 as a way to de-stress when my mother was ill with cancer. At the time, I never knew that the real-world challenges I was going through would turn into my passion and lead me to my full-time career. I can honestly say that the motivational lesson of learning through sweat sessions helped me overcome daily life challenges and inspired to me share that with others.
From Yoga to Real Life
Yoga taught me to breathe. Breathing is a necessary human function, but one of the hardest things to do in a challenging situation. Learning breathing and mindfulness on my yoga mat taught me how to take it into my daily life. If I'm facing a challenge, it probably means I need to slow down, breathe, and evaluate what needs to be done.
Running taught me that there are days you are tired, sore, and don't want to do something, but showing up and doing it will always feel better. My mom's motivation to wake up every day on her weakest, saddest, and scariest days helped inspire me along my fitness journey to be fearless and "Just Do It™."
As I began doing yoga and running, I fell so in love and developed such a deep passion for these things that I wanted to continue to learn about them. I got my 200 Hour yoga certification in 2014. I never knew that it would turn into a full-time career in NYC where I was inspiring packed rooms and training celebrities. That sounds great and glamorous, and honestly it was, but again yoga really just taught me to breathe and open my mind. I realized that going to New York was running away from dealing with my past. I was ready to face it again. New York is a stressful environment. I was keeping up just fine, but was pushing out family because I was "too busy training Victoria's Secret models," although I knew the real reason was fear and not fully living out what I was learning.
Letting go of ego is another lesson I learned on my yoga mat, and I knew that I could find balance between family and doing what I loved if I took some deep breaths, tuned in, and followed my head and heart at the same time. After three years in the Big Apple, I decided to live out my fitness and move back home to build my family bond and let go of anything from my past that challenged me, just as I had been doing for years in the gym.
From Running Away to Running Home
Along with my personal training success came my "glory days" of running. I was a runner because I loved how it felt. I had no clue I would one weekend wake up and call a friend asking whether I could run a marathon in her city the following weekend, and then show up and actually complete it. Well I did. And I don't remember much about that race except a few things—the times I was challenged the most. My first challenge came at mile 6, my first hill. I remember that thing looking like a mountain. The second thing I remember was turning to my family in my time of need. At mile 13.1, I called my dad, crying:
"What am I doing? Should I just run a half marathon today?"
He responded with, "Just take a deep breath." Well, at that moment my heart might have felt like it was going to burst out of my chest, and my mind was in a negative state underestimating my strength, but that connection and reminder to take a deep breath and tune in to my ultimate goal helped me complete 26.2 miles that day, and with the biggest smile on my face. I now coach others in running, and in the challenging times I bring out some of the lessons I learned to teach and inspire them, letting them know that I get it and understand because I've been in that headspace too. But I also remind them that this is no challenge you can't overcome if you just take a deep breath and tune in. I also like reminding people that if 30-second fitness challenges or hills are the hardest struggles in their day, week, or life, they are pretty lucky!
At-Home Exercise Your Mind
So, here's your chance to exercise your mind:
What has challenged you in the gym?
What did you do about it?
What words of encouragement helped you overcome it?
What was the feeling of overcoming challenge?
Now take that into your daily life. What is challenging you, and can you breathe and stay positive through that situation?
"JUST DO IT ™" —Gary Gilmore
Just Do It is a trademark of shoe company Nike.
This blog was written by Brittany Ignas, BS in Kinesiology, 200 Hour Yoga Alliance Certified, Stott Pilates Certified, and Fitness Coordinator. To find out more about the NIFS bloggers, click here.