As the Wellness Coordinator at NIFS, I get to meet a lot of great clients and help them attain their nutritional goals. I have noticed some common questions that arise during the nutrition coaching sessions. Hopefully, if you have been wondering the same things, these answers will give you some more insight!
How Do I Gain Muscle and Lose Fat?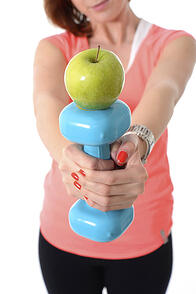 The best way to lose fat is to either increase the amount of calories you burn or decrease the number of calories you consume. As you are doing this, you also need to make sure you are doing two or three days of strength training to build muscle. To decrease calories, it is important to keep track of what you are eating and see where you can decrease. This might be decreasing the amount of coffee creamer you put in your cup of joe or swapping the potato chips at lunch for some raw veggies.
Increasing your protein intake won't automatically increase your muscle mass. If you are strength training two or three times per week, a simple calculation to know your protein needs is to divide your body weight in half and multiply by 1.5.
How Can I Lose Weight?
The first advice I always give to anyone wanting to lose weight is to start keeping track of your food. Studies have shown you eat 40 percent less when you write it down! This can be done with apps available for your phone, using a website, or just jotting it down with a pen and a piece of paper. It will allow you to see when and why you eat and also hold you accountable for what you are eating.
The other thing that can be helpful with weight loss is to look at what you are drinking. Are you consuming empty calories from flavored coffee drinks, soda, juice drinks, or alcohol? Most people tend to eat the same amount of food no matter how many calories they consume from their beverages. So, try to stick to water, low-fat milk, unsweetened tea, and 100 percent juices for the majority of your liquids.
How Many Calories Do I Need per Day?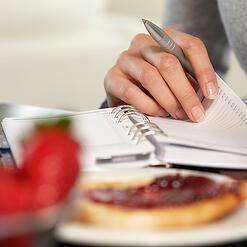 Every person is a different height and weight, and has varying levels of activity, so there isn't one calorie number that works for all individuals to follow. Instead, use this simple calculator, which takes these factors into account to determine the proper amount you should be consuming. Not only does it give an overall number, but what is more important, it tells you how to get that number. Recommended servings of grains, fruits, vegetables, dairy, meat and beans, and fat are given, along with some "extra" calories for those every-once-in-a-while food choices!
If you are interested in having your questions answered during a personal nutrition consultation, please contact on-site Nutritionist Lindsey Recker at lrecker@nifs.org or 317-274-3432, ext 239. Learn more about Nutrition and Wellness services at NIFS.
This blog was written by Angie Sheetz, NIFS Registered Dietitian. Read more about the NIFS bloggers.