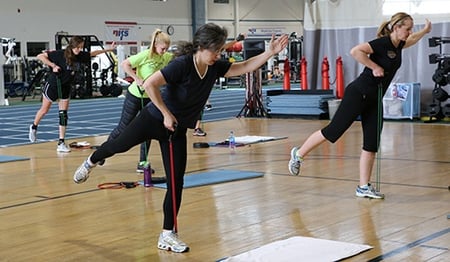 If you have spent any amount of time in the gym lately, I am sure you have seen a lot of people using exercise bands for part of their workout. When looking at a flimsy, thin exercise band, many would think, "Okay, what type of workout will that even give me?" Studies have shown that workouts using exercise bands will increase muscle strength and size while helping decrease fat, similar to using free weights.

How Bands Improve Your Workout
So, whether you are in CXWORX, working out in a HIT class, or doing something on your own, using resistance bands can add significant benefits into your workout. Here are the top things they can do:
Provide resistance: Just like using a weight to make an exercise more difficult to do, resistance bands help to provide tension and resistance to challenge you in your workout.
Allow free range of motion: Doing exercises in the full range of motion is important because it helps in injury prevention. Training in full ROM puts positive stress on your connective tissue and will decrease the chance of injury.
Allow progressive speeds and tension without changing equipment: Adapting an exercise while using a resistance band couldn't get any easier! With a simple step forward or backward, the tension on the band will significantly change, allowing the exercise to become easier or more difficult.
Easily packable for road trips or a space saver: This is the most obvious one of all; resistance bands don't take up a lot of space, so even if you have always dreamed of that "home gym," you can get a few bands and still make it work without a lot of equipment. It goes without saying that this is a huge cost saver.
Get a total body workout: Any fitness professional will tell you that you can get a full-body workout simply by using a resistance band. From biceps to triceps, back to chest, glutes to quads, and everything in between, using a band will change the idea of using 200 items to get in a full workout!
Change Up Your Workout
If you are trying to think of ways to change up your workout, think about throwing some resistance band training in there. You can ask any of the health fitness specialists at NIFS to show you some exercises or put you through a routine.
Need help setting up a workout program? Schedule a free assessment today!

This blog was written by Amanda Bireline, Fitness Center Manager. To find out more about the NIFS bloggers, click here.