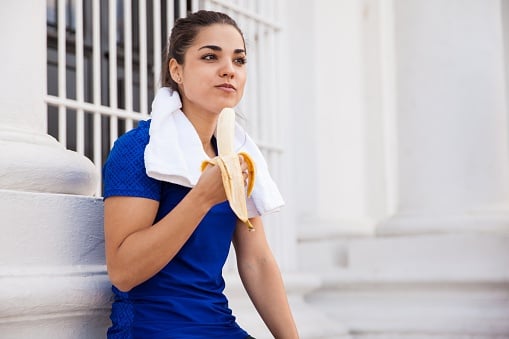 One of my main rules of thumb when helping clients with their food and nutrition choices is to choose more real foods. So why is it that when you are training or working out for over an hour, you hear about the importance of sugary and packaged drinks, gels, and bars?
Replacing Nutrients Lost During Endurance Workouts
As you sweat and use your body's energy stores, it is important to replace those with glucose (sugar) and electrolytes (sodium and potassium). The easiest thing to do is to grab a bottle of Gatorade or package of GU as you head out for your long walk or run. However, if you want to decrease the amount of processed and packaged foods in your diet, real food can work, too.
You need to choose a carbohydrate that is easily digestible. A quick and easy calculation to know how much you need to consume is ½ to 1 gram of carbohydrate per minute of exercise. So for a two-hour training session, you would aim for between 60 and 120 grams of carbohydrate throughout that time. The addition of the carbohydrates allows your body more readily available fuel, and therefore you can perform better and train longer.
Which Whole Foods Should You Eat for Better Performance?
So what foods can you use for marathon training or any other training that takes more than an hour? The most researched foods and easiest to digest are bananas and raisins. One banana and ¼ cup of raisins each has 30 grams of carbohydrates, while 8 ounces of Gatorade has 15 grams of carbohydrates. Other real food options are the following:
Medjool dates: 2 = 35 grams of carbohydrate.
Applesauce squeeze packets: 1 = 20 to 25 grams of carbohydrate.
Salted boiled potato or sweet potato: 1 =30 grams of carbohydrate. Once you cook the potato, you can put it in a plastic baggie and then tear off a corner and squeeze it out like a GU package during your workout. You can do the same thing with mashed bananas.
Sugary, low-fiber dry cereal: Check the label, but for Fruit Loops 1 cup = 27 grams of carbohydrate.
White bread with honey or jam: 1 piece with 2 TB. = 45 grams of carbohydrate.
Pretzels: 25 mini = 30 grams of carbohydrate.
Everyone's body is different, and as with other training fuels, practice is key. Try out different foods and combinations to see how your body responds. Never try something new on race or competition day. Individualize your plan with foods that you like and will look forward to having during your workout.
If you are considering training for an event such as the Carmel, Geist, or Mini Marathon and need help with your nutrition plan, contact Sabrina Goshen, RD, at sgoshen@nifs.org. Or, join our Mini-Marathon Training Program.
This blog was written by Angie Scheetz, RD, Wellness Coordinator. To find out more about the NIFS bloggers, click here.