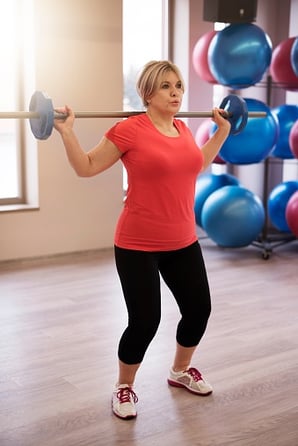 Let's play out a little scenario. Judy just renewed her gym membership because it's almost time for her annual summer vacation. She currently weighs 170 pounds but wants to lose around 30 pounds before she goes on vacation. She has taken herself through this transformation once before by running 4 miles on the treadmill every other day until she finally got to her desired weight. She plans to come to the gym this year with the same game plan as last time. Judy does not lift weights because she only wants to lose fat, not gain muscle.
Now here is the question: Should Judy repeat her cardio routine this year, or should she incorporate heavy resistance training?

Lifting Heavy Weights Has More Benefits Than Cardio Alone

This may be the approach many females take when trying to lose weight. Doing cardiovascular exercise is much easier and more effective at weight loss than weight training, right? WRONG! In fact, I strongly believe any woman who is looking to lose weight should invest more of her time into weight training. But I don't recommend just any weight training; it needs to be heavy weight training!

Reasons to Add Weightlifting

It's easy to understand why many females prefer not to lift heavy weights when in the gym. It often causes a lack of comfort if you are not used to pushing your body to its max strength levels. In addition, the female lifting recommendation for years has been to stick with light to moderate weight with an abundance of sets and reps. While this is not a bad recommendation, lifting heavy can add a great list of benefits that lighter weight (and cardio) just cannot compare to, all while possibly giving you faster, more dramatic results.

Burn more calories.

In terms of

fat loss

, forcing your body to lift heavy weight repeatedly will stimulate muscle growth, which creates a higher metabolism. The more muscle in the body, the more fat-burning potential will be created. When you are done lifting weights, your body continues to burn calories due to its need for muscle recovery. This is called EPOC,

excess post-exercise oxygen consumption

. So even when you are no longer in the gym working out, your body is still burning calories for you. EPOC does not happen with non-resistance training.

Get toned, not ripped. Lifting weights brings out a woman's natural curves and

body structure

. It's easy to believe lifting weights will cause bulky muscles to form, just as many guys become bulky when we lift. However, there is one huge difference between males and females and that's the presence of testosterone. As you may know, one responsibility of testosterone is muscle hypertrophy. Since females have very low amounts of testosterone, becoming bulky is often not a realistic expectation. Instead, when females participate in heavy weight training, their bodies actually become smaller due to more muscle and less fat. Females actually become leaner and curvier, which often leads to an increase in body image and self-confidence.



Gain confidence. I believe a strong reason many females would rather do cardio instead of weightlifting may be due to their lack of

confidence

. If the treadmill or the elliptical has always been your best friend, you may find it hard to step out of your comfort zone and challenge yourself with a heavy weight-training program. However, what many females come to find out is once weightlifting barriers have been torn down, confidence levels rise. I have heard many women in the gym say there is nothing more satisfying than when they are finally able to lift a weight that they could not lift previously. It not only reassures you that with some hard work and consistency you can push your body to new levels, but it also confirms that women do, in fact, belong in the weight room lifting heavy weight.



The Question Again: Should You Add Weight Training?

I will raise my question again: should Judy repeat her routine this year, or should she incorporate heavy resistance training into her program for different results? Sure doing 4 miles a day may get Judy to her ultimate weight-loss goal, but how much of her weight loss will be due to actual fat loss instead of muscle loss? Typically when cardio is a large portion of the workout routine, you tend to lose muscle, whereas when resistance training makes up a large portion of the workout routine, you tend to gain muscle. Remember, the more muscle in the body, the higher the metabolism, and the higher the rate of caloric burn—and the more weight you lose.

This blog was written by Darius Felix, Health Fitness Specialist. For more on the NIFS bloggers, click here.