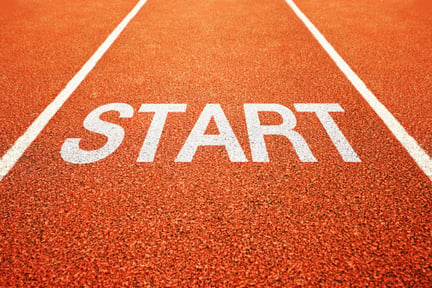 "Start somewhere today. Don't put it off. You can do something, no matter how 'small' you think it is in terms of your long-term goal. Every step you take is one you'll be thankful for when you get there. Remember: You're lapping everyone who's still on the couch." —Caressa Sharp
You see the quote above? It screams at you to get moving, doing something. In this post we talked about doing 95 percent of the work. Have you tried? If so, bravo. If not, why not?
In my quest to make you enjoy your workouts, it seems you may need more encouraging. Okay; if you started, there's no need to be chastised. You're on your way. Just keep at it! Let me talk to you, those who have not moved off the couch.
I made an interesting observation while attending my son's sixth-grade (first year in middle school) open house: The teachers with the best attitude had many posters about positive attitudes, while the dull, monotone teachers had none. My take from this is to surround yourself with so much good attitude, including words, pictures, and people.
Group Training May Be the Answer
The people you workout with can pull you along. The problem just may be finding them. At NIFS, there is a great group of active older adults "kickin' their own butts" as I like to say (I even told them this and they laughed).
We have started small group training for this very reason. I am looking for members who are searching for a training partner or group to help them get moving. If you are interested, please contact me.
Bottomline we want to find you and help you get healthier. DEMO classes are a great way to see if a training group would be just the kick in the pants you need. Any task done with a friend or partner is much easier accomplished—even if those people aren't exactly your "best buds."
Get active, stay active, live better!
This blog was written by Kris Simpson, NIFS Personal Trainer. To find out more about the NIFS bloggers, click here.