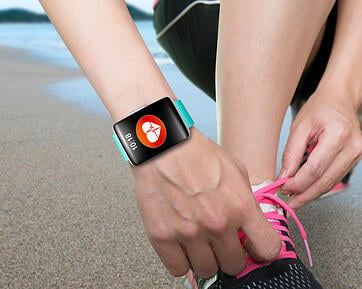 Wearable fitness technology is definitely the latest thing in the health, fitness, and wellness industry. With several recent studies focusing on the negative effects of sitting and a sedentary lifestyle, it seems as if these wearable fitness gadgets are getting even more hype than ever. These gadgets can track the number of calories you burn, how many steps you take, every single move you make, and even the quality of sleep you get each night. Are these super-fit tech toys really the key to getting fit? Or is it best to stick to the advice of a trusted health and fitness professional?
While it's always best to work with a certified health and fitness professional and your doctor when making changes to your activity level, wearing fitness tech gadgets definitely has a lot of benefits. Because I LOVE to be in the know with just about anything on trends, I had to get a fitness tracker of my own to see for myself. Here is what I learned.
1. Users become aware of their ACTUAL current activity level.
These fitness trackers give users a great picture of where they are with their current activity level. I will admit that when I started to wear mine, I was pretty shocked to find out that even though I exercise or try to move my body in some way every day, there are days where I still struggle to reach the recommended 10,000 steps per day.
2. Goal setting is key.
While I was surprised to learn that I needed to step up my game (literally) in the number of steps per day I was taking, my fitness tracker made it easy for me to set realistic goals and track my progress. I know what my numerical goals are, and it's easy for me to check my progress throughout the day.
3. Getting in an hour workout isn't enough.
Okay, so I'm not advocating over-exercising here, but I am promoting getting up and moving around throughout the day. It can be so easy to get sucked into e-mail, a project at work, or whatever else you have going on in your day. When we get sucked into these projects, hours can go by without us taking a single step.
After using my fitness tracker to assess where my daily movement was and setting some personal goals, I know that I need to take movement breaks each hour in order to reach my goal. Not only are these movement breaks necessary to achieve 10,000 steps a day, but I have found that I'm more productive in the 50 to 60 minutes that I spend working on a task, and I am more focused after I come back from my movement break.
4. Community helps keep users accountable.
While this may not appeal to everyone, with many of the fitness trackers there is a community element involved. You can share your successes through social media and you can follow along with other people using the devices. Personally, I like to keep my information private, but I think this aspect can be great for some people!
5. Fitness trackers provide extra motivation.
Constant sight of the wristband is like a constant reminder of the goals that you set for yourself. For me, it's motivating when I see the wristband and a reminder to follow through with the commitment that I made to myself.
While there are so many benefits to using these wearable fitness trackers, there are a couple of things to remember before you rush out to the store to purchase a tracker for yourself.
These trackers are not exact

. While companies have done their best to ensure accuracy, nothing is perfect and you have to keep that in mind and leave a little room for error.

It's also important to remember that simply wearing the device will not make you fitter or healthier. You must act on the goals that you set in order to see changes.
It's also important to remember not to let the numbers take control of your life. If you find you are putting your fitness and workouts before your personal relationships or you are getting injuries from your workouts, you may want to step back a bit. It's important to listen to your body and do what is truly making you happy.
I have loved wearing my fitness tracker, as it has helped me to gain activity throughout my day, which was my main goal. While I meet the required amount of exercise each day, I still do quite a bit of sitting, which is now being called the new smoking. Reaching my goal each day makes me feel good and motivates me to continue to work hard to stay healthy while enjoying life.
Be Active Stay Healthy!
This blog was written by Tara Deal Rochford, contributing writer, group fitness instructor, and author of healthy living blog Treble in the Kitchen. Meet our other NIFS bloggers.