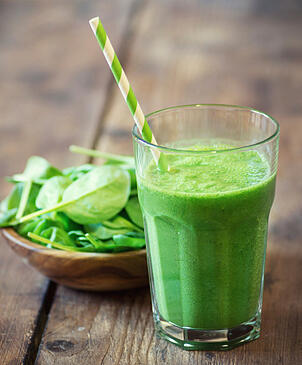 Warm weather and sunny days definitely have me craving a fruit and veggie-packed smoothie first thing in the morning, no doubt about it. Full of fiber, plant-based protein, vitamins, and minerals galore, it's pretty clear that drinking a smoothie is a guaranteed way to get in a nutrient-packed breakfast to start your day with healthy eating.

You can make your own recipes using these hints. Start with a liquid base like almond milk, coconut water, or coconut milk. Add in about a cup of your favorite frozen fruit such as strawberries, blueberries, or cherries. Next, I always like to add in half of a frozen banana for extra creaminess! Last, pick one or two of these super-food mix-ins to really take your smoothie to the next level. Trust me on this one! Your body (and your taste buds) will thank you.

Spinach: Greens are known for their serious antioxidant cancer-fighting superpowers as well as their high vitamin and mineral content. It's no wonder your parents were always trying to get you to finish those greens with dinner. Well, adding raw spinach to your morning smoothie is a great (dare I say sneaky) way to enjoy these greens so you can reap the nutrition benefits of this delicious veggie. I promise, you won't taste a thing. Try adding a large handful of raw spinach to your next morning blend.

Chia: It's no wonder everyone is chatting about chia! Rich in plant-powered protein and healthy fats that help promote brain function and heart health, these little seeds pack so much! They create a gel-like consistency when added to liquid so they will thicken your smoothie right up. Try adding one tablespoon to a smoothie for a tasty treat.

Cacao: Rich in magnesium, iron, potassium, and antioxidants, cacao is the raw form of chocolate. That's right, it's healthy to have a chocolaty, rich smoothie for breakfast. One of my favorite combos? Almond milk, frozen banana, almond butter, a dash of cinnamon, and a tablespoon of this delicious raw cocoa powder. (And maybe a handful of spinach!)

Coconut water: Drinking coconut water is a great way to hydrate and start your recovery after a tough workout. It is lower in calories than most sports drinks and contains no artificial ingredients or added sugars (just be sure to read the label), which makes it perfect for restoring your hydration levels the way nature intended. Use about a cup of coconut water as the liquid base of your smoothie to give your body a natural electrolyte boost after your morning sweat session.

Avocado: Do you LOVE super-creamy smoothies? If so, avocado is the superfood add-in for you! Adding a quarter of an avocado to your smoothie not only gives you a boost of fiber, monounsaturated fats, and potassium; but it instantly turns your smoothie into a thick and creamy milkshake. Milkshake for breakfast? Oh, yes!

This blog was written by Tara Rochford, contributing writer, group fitness instructor, and author of Tara Rochford Nutrition.