With an element of self-consciousness and a mystery to some, non-contact bruises due to exercise can cause some discomfort and become a deterrent to those who really need exercise but don't want this side-effect. Typically occurring following an intense bout of exercise (such as a marathon), non-contact bruises appear even though the individual may not have physically injured the area.

Other types of bruises occur more often than not from some type of physical trauma. If you have experienced this exercise side effect or just are curious about the topic, we will take a closer look at the bruising phenomena simply known as a contusion.
What Causes Bruising After Exercise?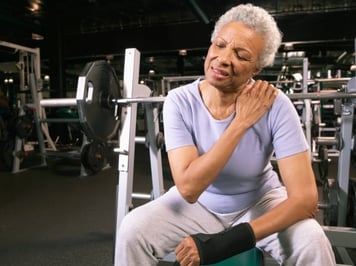 Several factors are associated with these developments, including age, experience, current medication, and genetics. Most bruises occur following a significant accident, fall, or surgery, but not always. Some bruises are caused by some underlying weakness in the blood pathways. The exercise (whether it is extensive "pounding the pavement" or "pumping the weights") intensifies over the course of time, leading to a bruise effect.
The bruise, usually bluish, purple, or green, is caused by small ruptures in blood capillaries that seem to develop near the recent trauma site and can be more or less serious depending on the severity of the injury.
On a side note, people who are bruised due to being struck are only amplifying the issue by exercising. The bruise will go away slower, stay the same, or even get worse. Other issues other than bruising that come up include swelling and pain (WebMD, 2015).
How to Heal Contusions
The best remedy for a bruise is to rest the body part that is bruised. Applying a slight pressure wrap can be helpful. Normal pain management devices such as ointment and Tylenol seem to be the most common treatment for aches and discomfort.
You can also look to a dietitian to see whether your diet is a contributing factor (MD-Health, 2015). People low in certain vitamins and minerals are more apt to the bruise effect. Your age and medications can cause blood to thin, leading to an unmerited bruise (WebMD, 2015).
If the problem persists, I would recommend calling your physician. If your physician feels that your condition is not serious, you can resume exercise when you feel comfortable doing so. Most likely, you can resume normal activity following recovery. Your bruise can just be a simple reminder that our bodies are pretty amazing machines and we need to take care of them to ensure we can continue to "pound the pavement" or "pump the weights" for a long, long time.
Rejoice and Evolve,

This blog was written by Thomas Livengood, Health Fitness Instructor at NIFS. To find out more about the NIFS bloggers click here.