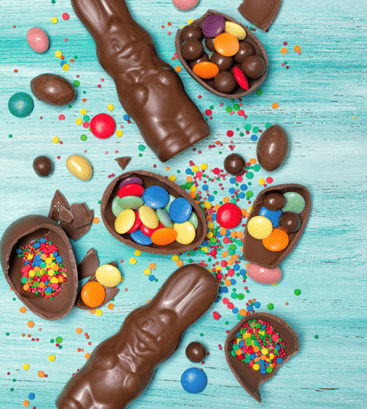 There is no escaping the colors of the sugary candy that is around every corner. From jelly beans to chocolate bunnies and Cadbury eggs, the temptations are endless and the calories are empty.
Too Much Sugar Is Harmful
Sugars are caloric, sweet-tasting compounds that occur widely in nature, including in fruits, vegetables, honey, and human and dairy milk. We are born with the desire or preference for sweet taste. The presence of lactose in breast milk helps ensure that this primary source of nutrition for infants is palatable and acceptable. Chemically and with respect to food, sugars are monosaccharide or disaccharide carbohydrates, which impact sweet taste. Most foods contain some of each.
Monosaccharide is a single molecular unit that is absorbed directly into the bloodstream. The most common monosaccharides are glucose, fructose, galactose, and mannose.
Disaccharide is sugar containing two monosaccharides that are linked together, and which are broken down in the body into single sugars. The most common disaccharide is sucrose, which is also known as table sugar.
What Happens When You Eat Sugary Candy
When you consume Easter candy, you are getting a large dose of sugar. Whether it's in the form of high-fructose corn syrup or cane sugar, it slams into your system like a bowling ball, and the effects are disastrous. Within the first 20 minutes or so, your blood-sugar level spikes as the sugar enters your bloodstream. It arrives there in the form of glucose, which is your body's main source of energy. This sudden rise in blood glucose stimulates your pancreas to start pumping out large amounts of insulin, which is the hormone that helps your cells take in the available glucose. Some of this glucose is used instantly for energy, but the rest is stored as fat by insulin, to be used later.
Sugar is ok in moderation just be mindful, especially around the holidays when sugar is so easily accessible.
But the holidays alone aren't the only times that we can allow these choices to creep in. Daily your efforts to eat well may be sidetracked by busy schedules, business dinners, birthday parties, evenings out with your friends, fundraising banquets, breakfast meetings, church dinners…the list goes on.
Alternatives for Healthy Eating and Celebrating
Here are some healthier alternatives. Don't forget that you also have the option to meet with our Registered Dietitians on staff to help you get on the right path.
Let's look at ways to enjoy Easter and not feel like you have to munch on carrots and lettuce the whole day. Alternatives to candy:
Very dark chocolate (choose some with very little sugar)
Nuts
Fresh fruit
Whole-grain crackers and pretzels
Cheeses
Popcorn
And start thinking about next Easter with these non-food ideas for kids' Easter baskets:
Play dough
Balls
Jump ropes
Sidewalk chalk
Crayons
Garden starter set
Butterfly habitat
Beading supplies
Swimming toys
Card games
The possibilities are honestly endless. It's just a matter of taking the time to think healthier and smarter next Easter!
This blog was written by Ashley Duncan, Weight Loss Coordinator. To find out more about the NIFS bloggers, click here.