The weather in Indianapolis has been typical Indiana winter weather: COLD. Despite the near-freezing temperatures, the NIFS Mini-Marathon Training Program is logging miles outside in preparation for May's big race. Running or being active outside in temperatures that are fairly icy may seem dangerous, but with the proper gear and clothing, getting out of the gym can be a great way to switch up your typical training routine.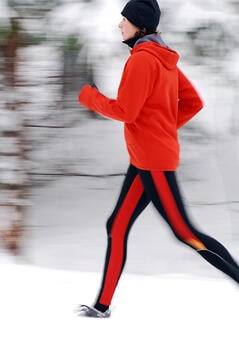 Tom BonDurant, co-owner of the Runners Forum, spoke at the NIFS Mini-Marathon Training Program orientation, providing runners with tips and tricks for staying warm and safe when running in freezing temperatures.
Layering Is Key
Tom shared his favorite key pieces of running attire to
mix and match that meet varying weather conditions throughout the year.
Layer 1: The base layer. The base layer can be long sleeve or short sleeve and should be composed of a wicking fabric. The wicking fabric will keep the body drier, which will allow the runner to stay warmer.
Layer 2: The mid/thermal layer. This layer typically consists of a fleece-lined jacket that either zips all the way or is a half zip. The zip allows the jacket to cover the chin and mouth, but can also be zipped down for some extra ventilation if the runner begins to get warm.
Layer 3: Outer shell jacket. This jacket is going to keep the elements out. It should also have reflective material on it for easy visibility when running in the dark.
In addition to these three layers, it is important to have warm and comfortable running gear on the bottom such as fleece-lined running tights, socks, wind briefs (for the guys), a hat, and gloves. With these basic layers covered, you will be prepared for the elements and running outdoors at any time of the year.
Written by Tara Deal, NIFS Group Fitness Instructor and author of Treble in the Kitchen.