Can you find two and a half hours in your weekly schedule to devote to exercise? Most adults would say NO WAY! Not with my job, running the kids around, taking care of the house, and taking care of my parents. We are all busy, but the truth is, it only takes two-and-a-half hours a week of your time to lower your risk for diseases such as cardiovascular disease, Type-2 Diabetes, and some cancers, according to the Centers for Disease Control and Prevention.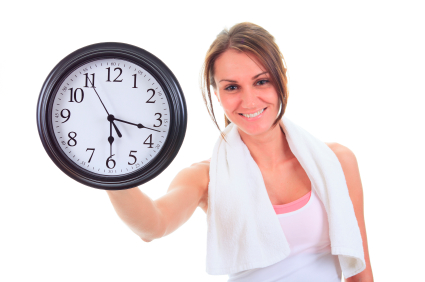 The Health Benefits of Even a Little Activity
Would you be able to complete your list of to-dos if you were dealing with a serious health condition? The same amount of activity will also help you to control your weight, improve your mental health, and increase the strength of your bones and muscles. Wouldn't it be great to feel stronger physically and emotionally and to have more energy throughout the day? It is possible!
Take one of my clients who has a very hectic schedule himself that changes constantly, making it difficult to make it in to NIFS every day. To combat this, he has purchased a foot peddler that he keeps at his desk to sneak in some extra physical activity when he is working to keep him on track with his fitness goals.
Fitting in Small Bouts of Exercise at Work
Think about what works for your situation and how you can find the time. Another option is to take a few minutes to complete a few exercises at your desk such as an incline push-up or body-weight squat followed by a quick walk around your office space or up and down the stairwell. Other quick-fix options include parking farther away from the front door of the store or at work, or taking the stairs instead of the elevator. You can do similar activities pretty much anywhere when you have a few minutes of downtime!
Finding the time is easier than you think! Even small bouts of exercise of only 10 minutes can contribute to your weekly total. First try to find time twice a day every day to walk for just 10 minutes. You only need to find 15 times a week (twice a day plus one extra) where you have 10 minutes to spare to reach your two-and-a-half hours! You could do this on your lunch break, while you are watching your kids practice, or by waking up 10 minutes earlier. Gradually, start adding more bouts of ten-minute activities into your day where you see fit. Making this positive change will make a huge difference in your health and you will be thanking yourself later in life for your lifestyle changes today!
Take that first step towards a more active lifestyle. Put down that mouse or smart phone right now and go for a 10-minute walk!
This blog was written by Stephanie Greer, NIFS certified Health Fitness Specialist. Meet our blogging fitness specialists at the NIFS website.