The thought of completing a triathlon had been on my mind for many years before I completed my first last summer. Being a competitive distance runner for many years and having no issues riding a bicycle, this seemed like the next natural race for me to try.
The problem was that I was (arguably still am) not a swimmer! Don't get me wrong. I could be in a pool and splash around and not drown, but swimming continuous laps using various swim strokes and drills is not my strong point athletically speaking. I should also mention that I was the only kid in my cabin at summer camp in middle school that had to wear the yellow wristband for the pool, which indicated that I could not go into the deep end based on the performance in the swim test.
Nevertheless, this was something that was on my personal bucket list and a friend finally convinced me to sign up for my first race, telling me that the swim was not that bad and that I would be fine. With some practice and a lot of help from Kris Simpson, I was able to get through my first triathlon and overcome my fear of not being able to complete the swim portion of the race.
Lessons Learned from the First Triathlon
As for the race itself, I learned a lot from it! The most important thing that I learned is to bring two water bottles. Obviously, I knew the importance of staying hydrated during the race. I just didn't consider losing the water bottle along the way. I dropped mine after only a few miles on the bike, which caused me to have no fluid for the ride. When I came back to the transition area, I realized I didn't have any extra there, either. Needless to say, I was pretty dehydrated going into the run.
I also learned that swimming in open water is way different than swimming in the pool. Kris told me this would be the case, and even took me out to some open water before the race to prepare me, but it took the race itself to give me a real understanding of open-water swimming. I now feel very confident about my ability to complete the swim portion of the race and know what I need to work on in the pool to help me improve with that.
Overall, I didn't treat the triathlon any differently than any other race that I have run in the past, with the exception of having no expectations as far as time goes, which took off a lot of pressure and allowed me to enjoy the experience. I ate my typical pre-race dinner and felt the same pre-race butterflies that I always have had before a race. I would suggest to anyone holding back on completing a triathlon to give it a try and put your hesitations aside.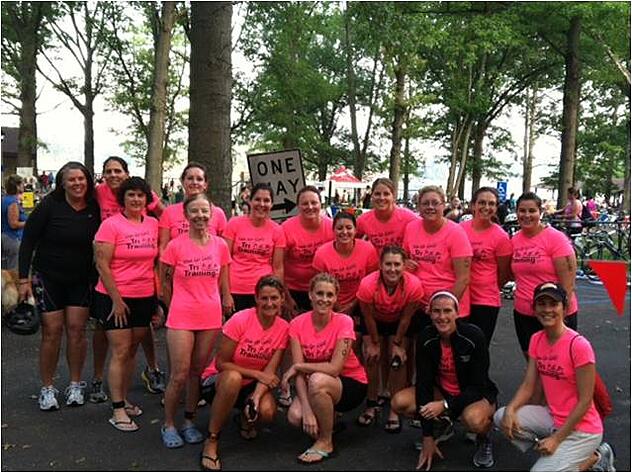 Your Turn to Try a Triathlon!
Now that I have completed my first triathlon and learned a lot from my experience, I am excited to help other women on the journey to complete their first triathlon. At NIFS, we offer a women-only triathlon training program geared toward women completing the Go Girl Triathlon at Eagle Creek Park. This program will give you the confidence and the tools that you need to complete the race! Sign up for the 6th Annual Go Girl Training Program! Reach out to Kris Simpson at ksimpson@nifs.org or Stephanie Kaiser at sgreer@nifs.org with any questions. Training starts June 18th but you can still get registered!
This blog was written by Stephanie Kaiser, NIFS certified Health Fitness Specialist. Meet our bloggers.