As the annual NIFS Mini Marathon Training Program comes to a close, the staff at NIFS have come to a conclusion: The runners who participate in this 14-week program are pretty amazing! They work hard in their short runs on their own, and then they come to each group long run ready to run and support each other to the finish. We think they all deserve a little bit of attention, which is why we decided to showcase one of our participants turned group leader in this blog post.
We are showcasing Ana Traversa, who joined NIFS just a short four months ago when she moved to Indy from New Jersey. She immediately joined the NIFS Mini Marathon Training Program and soon after volunteered to be a running group leader. We hope you enjoy reading about her experiences with the NIFS Mini Marathon Training Program and get some inspiration from this running machine!
NAME: Ana Traversa
SHARE YOUR "STORY" OR A BIT ABOUT YOURSELF IN A FEW SENTENCES: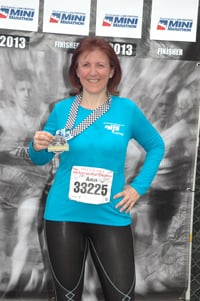 I'm basically a diehard runner. I ran my first race at 11. I was a 100m, 200m, and relay runner from 11 to 16 (ran a mean 13-second 100m), and then at 17 my gym teacher in school switched me to the mile. It took a whole year to train for what then seemed like an impossibly long distance to run.
Then life got in the way big time most of my life. I tried to keep up jogging through college and full-time jobs, but had trouble finding the time or the energy. I recovered my running in my late 30s and this time kept up a good, steady routine that included a lot of racing for a couple of years or so. Then life got in the way an even bigger time for a very destructive five-year period. It took nearly another five years to heal. And now it's all back with a vengeance, and this time I'm NOT letting go.
NIFS PROGRAMS YOU PARTICIPATED IN (NIFS Mini Marathon Training Program):
This is my only NIFS program so far (I became a member only four months ago, when I moved to Indy from Jersey). I went from participant to co-lead a couple of weeks into the program.
WHY DID YOU JOIN THIS PROGRAM?
After a lot of 3, 4, 5, and 6-mile races and only a 10-mile race in the Bronx, I ran my first Half in Atlantic City last October. I was pretty satisfied with my performance at the time but needed to cut back on my training over the following two months in preparation for the move. In January I needed to retrace part of my training, and this time I decided to take a risk with group running—I didn't think I could adjust to a steady, predictable pace.
SOMETHING YOU HAVE ENJOYED:
The promise of the shared run has paid off. It's also been good to be responsible for the group's run. If I had been only a participant rather than a co-lead, some Wednesdays I would have stayed home.
SOMETHING YOU HAVE LEARNED OR SOMETHING THAT SURPRISED YOU:
The slow pace (2+ minutes/mile slower than my race pace) was also the right pace for my long runs. On my own, I'm primed for speed and wouldn't have had the patience to sustain the much slower pace, especially early in the season. Now I can adjust my pace rather easily.
FAVORITE RUNNING ROUTE FROM ONE OF THE RUNS?
Up and down the canal. I really like it downtown. And I'm not bored by any repetitive running or exercise routine (except the treadmill), so if I had to run a full marathon just by running up and down the canal, I would. Heck, if I had to run a full marathon around the NIFS track, I think I would too. In fact, in the middle of the summer heat I probably will…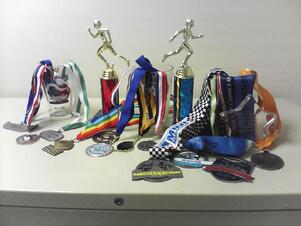 WHAT ACCOMPLISHMENTS HAVE YOU ACHIEVED DURING YOUR TRAINING PROGRAM FOR THE MINI?
I PR'ed in Carmel, and then again at the Mini last Saturday. I went from 2:14 in Atlantic City last October to 2:09 in Carmel to 2:05 at the Mini. And that's not all—I just PR'ed in the 5K, the 10K, and the 15K as well. And I've just turned 50. AND my application to run the New York marathon next November has just been accepted, so I'm literally walking (read running) on air.
I believe it's the combined result of (1) consistency, (2) the slower long runs on Wednesdays that built my endurance over time, and (3) the personalized runner-specific strength training routine that Adam Heavrin set up for me a couple of months ago. Adam will say it's my accomplishment and he just does his job like anyone else would, but I could write a whole page on how this component (his expert guidance AND his support) has made a huge difference in every possible way—physically and psychologically.
WHAT STRUGGLES HAVE YOU ENCOUNTERED? TIPS YOU HAVE LEARNED ALONG THE WAY?
I can't overemphasize the value of learning as much as possible about physiology, about running, and about nutrition. I haven't encountered struggles this year—I've been on this path for over two years now. But one of the greatest struggles is fighting peer pressure. The non-runner has lots of difficulty understanding the passion for the activity, especially if it comes from a woman, especially if she is middle-age, especially if it means you need to keep a diet and a discipline that interferes with typically socializing behavior, etc., etc. Again, I could write volumes about how one needs to build strong arguments to fight the many stereotypes that surround this kind of activity. Indy is not that unfriendly in that regard—hey, over 1,100 of the Mini runners were women between 50 and 54. But in Jersey I had more trouble.
HOW DO YOU STAY MOTIVATED?
Ongoing fun and consistent progress at the physical activity that I'm most passionate about have provided all the motivation I need, and more.
I can say the same about my diet, which consists of only healthy foods with little to no cooking and next to no "dressing"—no empty calories there. My body doesn't need any offending stuff anymore, and certainly no sugar for sugar's sake. Even the healthy Wednesday Mini training snacks were sometimes a no-no. All the motivation I need to stay away from my old habits (three years ago I was 50 pounds heavier and couldn't go up a flight of steps without panting) is the knowledge that my current diet is what allows me to continue running. And the mood, attitude, and confidence boost that I get from it all is golden.
ANY OTHER THOUGHTS YOU WISH TO SHARE:
Kudos to Steph and Angi as organizers!
Now we need a full marathon training program!
Now is the time to sign up for next years Mini Marathon Training program at NIFS! Take advantage of our Early Bird special and save $ on this program by registering before June 30th! Learn More.