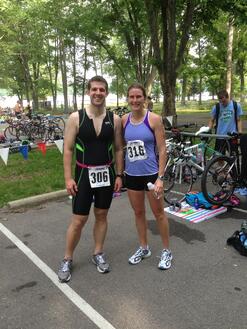 The annual co-ed NIFS Triathlon Training Program is complete and participants have successfully completed the first triathlons of the season. The participants never cease to amaze all of us here at NIFS. Working hard during the six weeks of training to perfect swimming technique, practice biking on the road, decrease running time, and create smooth transitions between events pays off every year for these athletes. We love hearing from our participants and giving them the limelight, which is why we are showcasing one of our Triathlon Training participants in this blog post.
We are featuring Zach Smith, an avid runner turned triathlete who has an amazing story that is sure to inspire anyone to get out and try his or her first TRI. Take it away, Zach!
NAME: Zach Smith
SHARE YOUR "STORY" OR A BIT ABOUT YOURSELF IN A FEW SENTENCES:
In 2011, I was in Boulder, Colorado, for work and decided to start running to get back in shape thanks in part to my co-worker at the time (who was an avid runner) and the beautiful mountain view. Once I was back in Indy, I just never stopped running. I participated in my first Mini Marathon in 2012. I got connected with NIFS in 2013 through the Mini Training Program and decided I would commit to the six-week Triathlon Training after the Mini was over. Currently, I am a full-time employee at IUPUI, working in the Math Department as Student Services Assistant, and am a part-time graduate student pursuing my Master of Public Affairs (MPA) in Policy Analysis through the Indiana University School of Public and Environmental Affairs (SPEA).
NIFS PROGRAMS YOU PARTICIPATED IN: Triathlon Training Program
WHY DID YOU JOIN THIS PROGRAM?
I think anyone who is an avid runner, swimmer, or bicyclist has thought at least once about participating in a triathlon. As a runner, I naturally was ready to take my competitive nature to the next level by conquering a triathlon. However, I had no idea where to begin or how to train for such an event. I saw the "Ready to TRI?" posters at NIFS during the 2013 Mini Training Program and knew that it was exactly what I needed to do to prepare for my first event.
SOMETHING YOU HAVE ENJOYED:
I really enjoyed working with Kris Simpson and Stephanie (Greer) Kaiser at NIFS during this program. Being in a smaller training group, we were able to receive more individual attention during the training and that was extremely helpful. Kris and Steph really knew lots of training and race-day tips, which helped make my first event go smoothly.
SOMETHING YOU HAVE LEARNED OR SOMETHING THAT SURPRISED YOU:
I think for everyone who never swam competitively, the swimming portion of the triathlon can be the most daunting of the three parts. I consider myself an average swimmer and did not swim competitively, but I really enjoyed the swimming training we did on Tuesday nights and my own personal swim training on Fridays. Swimming is such a great exercise and I think most people discount it.
FAVORITE ASPECT OF TRAINING (BIKING, SWIMMING, RUNNING, FAVORITE MEMORY)?
I really enjoyed the biking/running training that we did at Eagle Creek Park. It is such a different feeling biking for 30 to 40 minutes and then getting off and immediately starting to run for 1 to 2 miles. Another plus to training at Eagle Creek was the fact it was where I participated in my first Sprint Triathlon, so I definitely felt more comfortable knowing how the race would be set up beforehand.
WHAT ACCOMPLISHMENTS HAVE YOU ACHIEVED DURING YOUR TRIATHLON TRAINING?
I think one accomplishment to note that I achieved during the training would have been giving the training participants on road bikes a run for their money on my hybrid bike. I was keeping up with them and sometimes surpassing them on our training rides through the hilly road course of Eagle Creek Park. This definitely set my mind at ease that I would do just fine on race day with my hybrid.
WHAT STRUGGLES HAVE YOU ENCOUNTERED? TIPS YOU HAVE LEARNED ALONG THE WAY?
In spite of all the swim training I did, swimming in the open water was way different than swimming in the pool. Kris had warned us that there is no "etiquette" out in the water during the race, so I knew people would brush into me and I would brush into others, but it was hard to simulate that in the pool (even though we all would swim next to each other in one pool lane at the same time). My biggest tip is to try and do some open-water swimming prior to your event so you are used to not seeing the bottom and feel comfortable racing in it. I know I had to get my bearings at first during the event and managed just fine in the end, but I know more experience with open-water swimming would have helped me.
HOW DO YOU STAY MOTIVATED?
I am like most people (very busy), so it is very easy to allow working out to fall lower on the priority list. However, I have found that having personal goals and something to prepare or strive toward really helps me stay on track. I just signed up for my first full marathon in November (the Indy Monumental), so that is driving me to keep my fitness in tip-top shape throughout the summer and into fall!
ANY OTHER THOUGHTS YOU WISH TO SHARE:
I truly recommend NIFS Triathlon Training to anyone who wants to learn how to train the right way and be ready come race day. I know I am glad I did!
This blog was written by Tara Deal Rochford, NIFS Membership Manager and a group fitness instructor. Author of Treble in the Kitchen. Meet our other NIFS bloggers.