There are a lot of different days throughout the year devoted to certain foods, and October 2 is no exception. This day is reserved for all things kale!
So, if you have been hearing about this wonderful green, leafy vegetable and have been wanting to try it, or if you are already a lover of the vitamin-K-packed wonder, then definitely take this day to enjoy some recipes that incorporate kale.
Since kale thrives in cooler weather, this time of year is the perfect opportunity to sample it when other vegetables are out of season. To find the freshest kale, search for deeply colored leaves with hardy stems.
If you want to increase your intake of folate, calcium, iron, fiber, and phytonutrients, here are three ways to incorporate kale into your diet for breakfast, lunch, dinner, or snack time.
Orange-Blueberry Kale Smoothie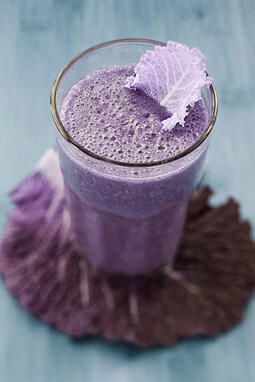 If the thought of drinking a green smoothie doesn't appeal to you, try this delicious option that keeps the color a gorgeous purple!
1 whole orange
1 cup blueberries
½ cup vanilla almond or soy milk or ½ cup skim milk
2 cups chopped and loosely packed kale
1 cup ice
Place all ingredients in a blender and blend until smooth.
Makes three 8-ounce servings or two 12-ounce servings.
Kale Salad
1 big bunch kale; chopped fine
1 cup cooked wild rice or brown rice, cooled (or try cooked quinoa)
1 red or orange bell pepper; chopped
¼ cup thinly sliced red onion or green onion
1/2 cup sliced almonds
1/4 cup sunflower seeds
1/2 cup dried cranberries or raisins or both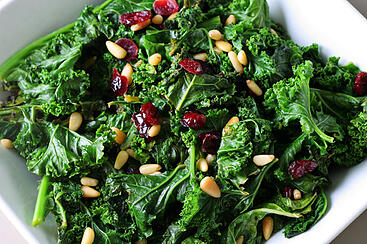 ½ cup feta cheese
¼ cup grated parmesan
Dressing:
2 to 3 TB. olive oil
¼ cup balsamic vinegar
2 TB. Dijon mustard
1 to 2 TB. honey
Juice of 1 lemon (add zest if you want)
Sea salt and pepper to taste
Toss salad. Put all dressing ingredients in a shaker and combine. Pour over salad and enjoy.
Kale Chips
Slice kale into bite-sized pieces. Toss with a drizzle of olive oil and a pinch of salt. Bake at 350 degrees for 15 minutes.
For more information and recipes, check out the National Kale Day website.
Schedule a personal nutrition consultation to plan how you can incorporate more veggies like kale into your diet.
This blog was written by Registered Dietitian at NIFS, Angie Scheetz, RD. To meet the NIFS Bloggers click here.