It has taken a bit of time to get used to calling myself a "runner," but I enjoy running races and incorporating running into my weekly workout routine. So, even if I still have vivid memories of quitting the middle school cross country team after one practice, where I walked the entire time…I am still a runner.
Although I'm not an elite runner, and I don't plan on winning any races anytime soon I do have a slightly competitive mindset and I enjoy seeing improvements in my fitness level. When I signed up to complete my fifth half marathon this November, I knew that I needed a new goal. I have had small personal goals each time I completed a half marathon to help get me through training:
Finish the half marathon without walking.
Finish the half marathon in under two hours.
This half marathon was only weeks after my second half marathon, so I just wanted to finish feeling good!
Beat my previous best time of 1:56:53.
The next goal: complete a half marathon in 1:45:00. This will mean shaving a significant amount of time off of my mile, but I know that with hard work and dedication I can do it. Because I am not an "experienced" runner, I thought I would use some of my resources at NIFS and ask the more experienced staff for advice in decreasing my running time.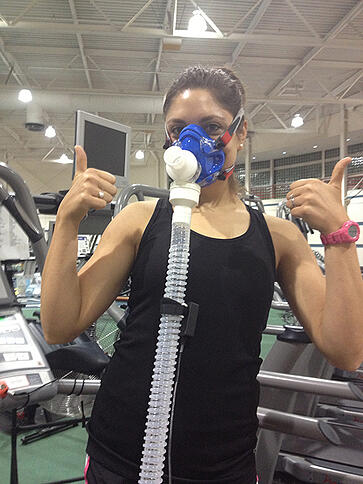 Steph, one of our Health and Fitness Specialists and an experienced runner, suggested completing a VO2 max test to find out my lactic threshold. She explained that a VO2 max test is used to measure how much oxygen your body processes at a maximal effort during exercise. This would determine how my aerobic fitness compared with other women my age. The test also would determine what my lactate threshold point is, which tells me how intense my training sessions could be and what my "tempo" or lactic threshold pace should be.
You may have heard of a "tempo" run, which is simply a run completed at the heart rate just below your lactate threshold, designed to help you improve your lactate threshold level and stamina. Lactic threshold is the point of intensity during exercise when lactate starts to accumulate in the blood.
I was excited to complete this test, but I was also very nervous! I had heard horror stories of participants getting sick at the end of the test, and the contraption/face mask looks pretty intimidating, too. That being said, I knew that this would be valuable and helpful information for me, so I completed the test willingly.
What Was the VO2 Max Like?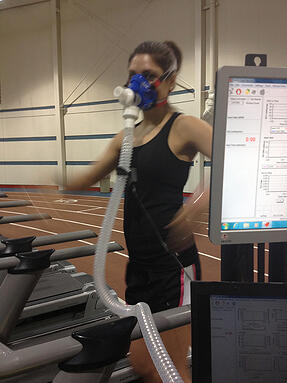 It was a bit uncomfortable running with the face mask on and at such a steep incline, but overall the test was not bad at all! All of my previous fears were unnecessary. I started running on a treadmill at a comfortable pace of around 8:30min/mile. Steph slowly began to increase the incline as the machine calculated my heart rate and how efficiently my body was using oxygen. I was shocked at how quickly I began to feel the burn in my legs—but I guess that was the point of the test!
Looking back, I probably could have gone slightly longer, but for fear of flying off of the steep and quick-moving treadmill I asked Steph to turn off the test as soon as I felt I was at my edge.
Once the test was complete, Steph went over the results with me to explain my target heart rate for my training runs, my lactic threshold, and what my VO2 max was. She also completed a training plan for me based on this information and my goal of running a half marathon in 1:45:00.
I was not sure if I would reach my goal of 1:45:00 this time around because of the short 8 week training window, but I still had my heart set on achieving that time. Race day came, and I was feeling as ready as ever to run the fastest I have ever run such a long distance. Adrenaline was pumping through my veins and Steph's excellent training program gave me the confidence I needed to know I COULD achieve my goal time…and I did! I ended up completing the race with a pace of 7:57 and a time of 1:44:04 and I could not believe it! (I still can't!)
Now that I have achieved my long-time running goal, I want to see how much faster I can actually get and the VO2 max test will allow me to do just that. It will allow me to see how much energy I still have left in my tank and Steph can create a new training plan for my next race. I can't wait to see how this new to me training will positively affect my race time as I lead a training group for the NIFS Mini Marathon Training Program.
How Can You Schedule Your VO2 Max Test?
All you have to do is e-mail Tony Maloney, Fitness Center Manager, at tmaloney@nifs.org, to ask about pricing and schedule your assessment.
This blog was written by Tara Deal Rochford, NIFS Membership Manager and a group fitness instructor. Author of Treble in the Kitchen. Meet our other NIFS bloggers.