Are you one of the many Americans who are glued to a desk throughout the day? On top of that, do you have other responsibilities outside of your work hours that limit the amount of time that you can spend exercising throughout the week? Here are some ways that you can become more active at work. Remember, 30 minutes of physical activity five days a week can make a huge difference in your long-term health!
1. Bike or Walk to Work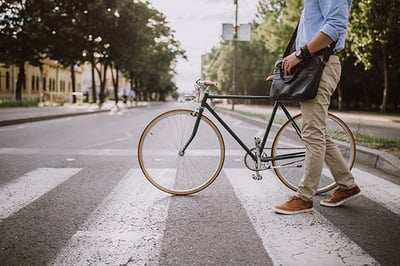 If you can ride a bike or walk to work each day, you can add a significant amount of physical activity minutes to your week. If you have a bike path or walking trail near your home that leads to your work, this is an excellent option. Many do not have this luxury or live too far away, but that doesn't mean it is completely out of the question. If you have a longer commute, you can drive to a path and park nearby and bike or walk the remainder of the trip. This is a great solution for those who work in busy cities.
2. Take the Stairs
Even if you are stuck at a desk the majority of the day, you can get in some quick cardio bursts if you have a set of stairs in your building. Anytime you have the opportunity to switch to a different floor, utilize the stairs instead of the elevators. For example, instead of using the restroom that is a few steps from your office, take the stairs to a restroom on a different level to sneak in some extra steps. (You can even go up and down a few extra times while you are up!)
3. Walk on Your Lunch Break
Squeeze in a few extra minutes on your lunch break by taking a stroll around the block or through the hallways. If your time is limited, do not underestimate the value of a short 10-minute walk. The small additions of physical activity throughout your day add up fast! Some companies even offer incentive programs at work for walking so be sure to join in!
4. Walk During Meetings and Brainstorms
When possible, have meetings while walking. This can be especially beneficial during brainstorms. Instead of sitting for 20 minutes with a colleague discussing the next task, walk!
5. Desk Exercises
When you feel like you have brain block or just need to pause for a few minutes from what you are doing, complete a few exercises right at your desk! Try alternating between incline push-ups on your desk and body-weight squats for 3 sets, 10 to 15 reps for each exercise, for a quick burst of energy. All you need is your own body weight and your desk!
6. Sit on a Stability Ball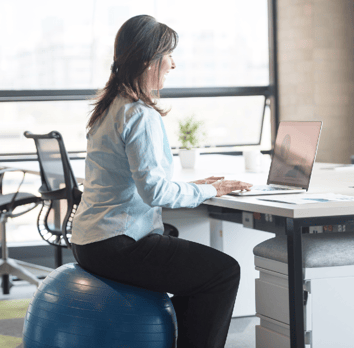 Not all companies will allow this, but if yours does you should definitely take advantage of it! Sitting on a stability ball throughout the day improves posture, strengthens the core, and is an excellent piece of equipment for a few quick desk exercises throughout the day. A regular stability ball will work, but balance ball chairs are excellent and provide additional ergonomic benefits.
7. Stand Up
Simply stand up at your desk when possible! Standing burns more calories than sitting and allows for your body to stretch from the seated position. Oftentimes we need to be seated to complete a job task, but you can easily stand during a phone call or while you are reading a long document. If you want to add an extra burst of cardio along with this, try marching in place to increase your heart rate.
Have specific questions on ways to incorporate more physical activity into your day? Sign up for a free fitness assessment with one of our expert trainers!
This blog was written by Stephanie Kaiser, ACSM certified Health Fitness Specialist. Meet our bloggers.