With NIFS being located on the campus of IUPUI, it is hard not to notice the campus's schedule and all of the students bustling between classes. Several students stop into our fitness center for advice so they can avoid the "freshman 15" or get their healthy habits back on track.
Now that school is in full swing and you have your classes and routine figured out, it is a good time to take a look at your healthy habits or areas that could use a little tweaking in the health department. I know how tough being in college can be, but it doesn't mean that all healthy decisions have to fall to the wayside. This is a crucial time in your life when new routines are developed, so why not develop healthy habits that you will have for life?
College is a time when you go through many changes all at once, so it's important to not only focus on putting healthy foods in your body, but also to be healthy physically, mentally, and socially, too! Not to worry; it may be challenging at times dealing with so many new things all at once, but I promise you will make it through.
You may be a new college student, in your third or fourth year of college, preparing to go to college, or helping a loved one get ready for his or her college experience. Whatever the case, these tips will help keep anyone college-bound healthy, balanced, and happy!
1. Create a Routine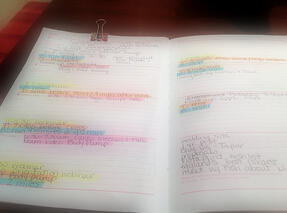 Every person functions differently. Some people are planners and some people thrive on spontaneity. Whatever the case, your body needs a little bit of routine. Make sure that you are orderly with things you do each day. For example, keeping your keys, ID cards, and notebooks in the same place each day will save you the stress of searching and scrambling last minute to find these items before each class. This extra time will also allow for more "free time" when you can do spontaneous and fun things to keep your mental and social health balanced.
2. Begin with Breakfast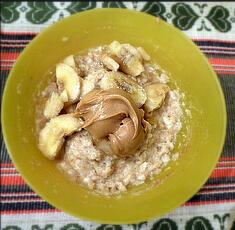 Breakfast is the meal that boosts your blood sugar and metabolism, and can set the tone for the entire day. Skipping breakfast can lead to moodiness, low blood sugar, and overeating later in the day. Remember that you don't have to eat "breakfast" for breakfast. If you want leftovers from the night before, go for it! The important thing is to include complex carbohydrates, lean protein, and healthy fat to increase your focus, metabolism, and energy. If you don't want to eat in the dining hall, an easy dorm room breakfast is hot oats cooked in the community microwave topped with a dollop of nut butter and a side of fruit that you grabbed from the dining hall the night before.
3. Hydrate
Keep in mind that the calories in your drinks count toward your daily calories, too. If you are feeling thirsty, you are already dehydrated, and often thirst can be mistaken for hunger. Choose water when you can, and keep a fun water bottle or cup with you at all times to encourage drinking throughout the entire day.
4. Schedule Physical Activity and Make it FUN!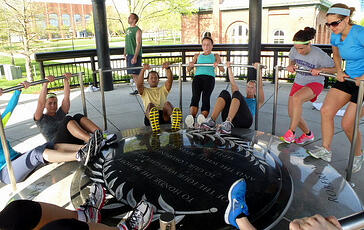 Don't like going to the gym? You don't have to! Since I work at NIFS you probably think I am crazy for saying that! The thing is, your body doesn't know whether you are running inside on a treadmill or playing a game of soccer. What your body does know is it was meant to move, so schedule some fun active time in your day just like a class or appointment. Sign up for an intramural sport, try a group fitness class, join a running group, volunteer at the animal shelter to walk dogs, sign up for a dance class, and get creative! Find something you love and do it.
5. Be Prepared
Although it may be hard to pack an entire healthy meal when living in a dorm, packing a snack can be easy! Some fruits and vegetables require little to no preparation (such as apples, oranges, peaches, cherry tomatoes, and snap peas) and can be thrown into your school bag for an easy energy booster. This can lift your mood and sharpen your focus to help prevent the afternoon blues and help increase your productivity while studying. Having water and emergency snacks on hand will also make it less likely for you to reach for fast food as a regular option.
6. Indulge!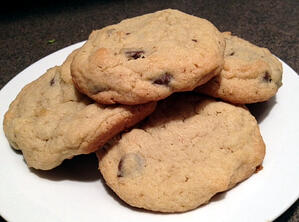 In moderation, it's okay to eat your favorite treat every once in a while. Things like ice cream, fast food, chocolate, or a special coffee drink are perfectly fine to enjoy...sometimes. It's not what you do every once in a while, it's what you do every day that makes a difference.
At NIFS we are here to help, and we couldn't be more conveniently located for students in central Indianapolis.
We offer fun group fitness classes that are included in your membership. We have a Registered Dietitian on staff who can help you create a meal plan that will work with your campus lifestyle. And our Health and Fitness Specialists will create a workout plan for you for free.
If you have questions about student membership or any of the programs that we have available to help you live a healthy campus lifestyle please e-mail membership at membership@nifs.org.
This blog was written by Tara Deal Rochford, NIFS Membership Manager and a group fitness instructor. Author of Treble in the Kitchen.Meet our other NIFS bloggers.