NIFS Indianapolis is celebrating our 25th anniversary throughout the month of November by highlighting some of our Charter Members that have been around since the beginning. These members have participated in countless group fitness classes, training programs, have lifted more weight over the years than we can keep track of and have logged many miles on our cardio equipment.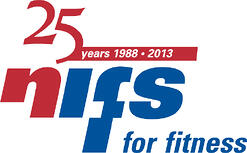 We want to give a HUGE thanks to these members who have really been with us through it all. To do that, we are highlighting these charter members by learning more about their stories and what keeps them coming back to NIFS.
First up, we have Pat Marshall, who became a loyal NIFS member on November 14, 1988. Thanks for all of your hard work and dedication Pat!
What keeps you motivated to have a healthy lifestyle?
I have a history of diabetes on my mother's side and a history of heart disease on my father's side. I also think weight control is extremely important.
What is your favorite program/favorite instructor/favorite piece of equipment?
I love Body Pump and Cycle
The Ellipticals
The Spin bikes
The indoor track
How has your fitness routine changed throughout the years?
When I first joined NIFS I did so because of the indoor track. I liked to use that for my walking. Then NIFS got the new Elliptical machines and stair master so I started using those more. Then the group fitness was added in so I started attending classes. Now I seem to be going back more to the cycle.
Anything else you would like to add?
NIFS is a top notch facility! It's very clean—the locker rooms and fitness center offer a lot of variety of classes.
The timing of the classes is really good because people can do it before work or after work.
The location is great as well.
Basically the keep up over the years has been great, as well as addition of new equipment.
I also love the hours that you open early and stay open late.


This blog was written by Tara Rochford, NIFS Membership Manager, Group Fitness Instructor and author of Treble in the Kitchen. Meet all of our NIFS Bloggers.