There is nothing like hopping on a bike and riding nowhere. If this sounds dull and boring to you, you have never ridden with me. I teach RPM®, the Les Mills Indoor Cycling Program. Cycling is a great way to balance your workout and helps build leg strength and cardio fitness. With the weather turning cold, this is the time to try indoor cycling. Honestly, it can be terribly boring when done on your own, but a group class always makes it better and the workout factor is not one to be missed!
A Lower-Impact Workout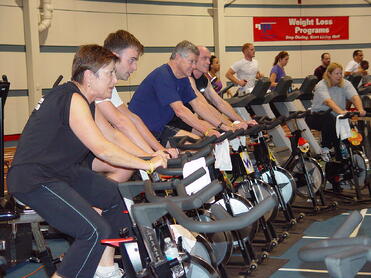 My love/hate relationship with running is what brought me to indoor cycling. I love the feeling of the burning in my lungs and the pride of finishing in a sprint up the driveway, but my ankles and shins are not always fans of the inevitable high-impact movements associated with running. A few years ago I was fighting injuries from running and my doctor recommended I ride a bike as an alternative workout. This worked really well until it got cold. That is how I ended up in my first RPM® class.
Honestly, I was dreading the thought of doing it. The concept of sitting on an uncomfortable seat in spandex going nowhere was less than appealing. But I dragged myself there and am so glad I did! I found I could achieve the same physical feeling of running without all of the high impact. High-impact activities have their own benefits and I enjoy them; I just need balance in my workout, and RPM® gives that to me and can provide it for you as well.
Join the Fun of Indoor Cycling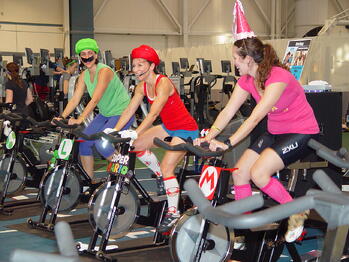 During these cold months, do yourself a favor and try out a Cycle or RPM® class. The worst part is getting used to the seat. But after that, all you will notice is the strength building in the legs and the cardio party in your heart. Put that all together with epic music and you've got one heck of a workout. Outdoor riders, you may find that you miss the scenery, but the instructors are all pretty entertaining in their own ways, so you won't be bored. We may not be physically relocating, but we are moving forward with our fitness level. Take a class regularly and you may find your outdoor rides and runs are a little easier next summer! I know mine always are.
Check out the Group Fitness Schedule and pick a class time. Come a little early so the instructor can get you set up on the bike properly. As with any group fitness class, try the class three to five times before deciding if it is for you. Have fun and ride it like you stole it!
Not a member yet? Request a FREE CLASS PASS!
This blog is written by Tasha Nichols, the NIFS Fitness Center Group Fitness Coordinator and Les Mills National Trainer and Presenter.