Imagine the last time you ran up a few flights of stairs because you were running late to a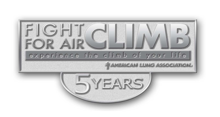 meeting or were struck with a sudden burst of energy. Your legs probably began to tighten up and burn a little. Your heart rate suddenly climbs and you begin to consume more and more oxygen with every step. You have to, your body is craving oxygen to supply a rich blood flow to the working muscles so you can get to that meeting on time.
Now try to imagine that same climb up the stairs, but this time you have lung disease and you are unable to deliver that much-needed oxygen to your working body. I think it would be safe to say that you may be late to that meeting.
The Fight for Air Climb
The Fight for Air Climb is an event that can give you a taste of feeling unable to breathe while trying to get somewhere. This annual event, presented by the American Lung Association, helps raise money for lung disease research and educates people on the seriousness of this group of debilitating conditions.
The unique format is unlike any other race or fitness challenge out there. The site for this year's event is the Chase Tower, and the challenge is to climb all 47 floors. If that's not enough of a challenge for you to climb the tallest building in Indianapolis, do it twice or even three times for a total of 141 floors. There is a challenge for everyone.
A True Fitness Challenge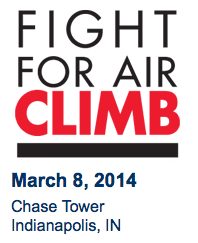 I climbed my first event last year at the Regions Tower, made up of 35 floors, with a motivated and determined group from NIFS. Now I have run my fair share of half marathons, and even conquered a Tough Mudder, so I was pretty confident that this would be a challenge I could soar through. It wasn't until I reached the 17th floor on my first run that I realized I was very much mistaken.
I took the Ultimate Challenge course and climbed the tower three times. It was about that time, halfway up on my first run, that I knew I was facing a mountain of a challenge (insert lame-joke rim shot here). It really is like no other feeling, midway up, and not being able to breathe very well at all and having 18 floors to go, plus 70 more. It really was like no other challenge I have ever faced.
Although the physical effort was immense, it did not compare to the empathy I felt for those who can barely walk around their homes without feeling this way. It's for those individuals that we climb, because they can't. It is so uplifting to see so many climb in hope of making the lives of those suffering from a lung disorder better by supporting the research needed to battle these conditions.
Fight for Air Climb Boot Camp
Last year, I also had the pleasure of helping train many of the individuals participating in the climb here at NIFS through our Fight for Air Climb Boot Camp. It was great to work with so many inspiring climbers all with a unique story of why they have decided to put their body through a grueling challenge. Many of them have loved ones battling a lung disease or have lost someone to the same battle. No matter the details of the story, there was always a consistent message: "Let's climb for those who can't."
The American Lung Association and NIFS have joined together to bring participants a FREE training program for the climb. You do NOT need to be a member of NIFS to participate, you just need to be registered for the The Fight for Air Climb event.
Tony Maloney is NIFS Fitness Center Manager and leads group training Sunday through Thursday. Follow Tony on Facebook at NIFS Elite. Meet all of our NIFS Bloggers.