By now, you may have been to the gym a few times and have seen or even tried using the foam rollers. As we have learned from NIFS Personal Trainer Kris Simpson in her blog, foam rollers are a great way to loosen up the muscles by promoting flexibility, blood circulation, and recovery through self myofascial release. Although foam rolling is great, we can take the self myofascial release techniques a step further by implementing a commonly found piece of fitness gear, the tennis ball (or lacrosse ball).
Differences Between Foam Rollers and a Tennis Ball
A tennis ball or lacrosse ball can be used as a tool for applying self myofascial release to the muscle, similar to foam rolling. Differences between foam rolling and tennis ball rolling go beyond the obvious. Visually, a foam roller is traditionally a cylindrical, foam object and can be rather bulky, which would be fine for large muscle groups such as the glutes, hamstrings, or latissimus dorsi. The tennis ball is much smaller and round, giving it the ability to reach smaller areas and pinpoint tight, sore muscles. This is great news for small-muscle issues, but it is not exactly practical for total body myofascial release.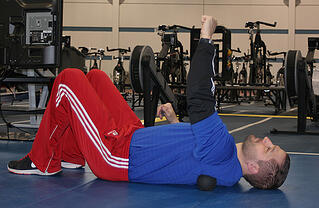 How to Use a Tennis Ball for Self Myofascial Release
Some examples of areas on which I like to utilize a tennis ball or lacrosse ball(pictured) include the hip flexor, the glute, and the shoulder blade. Follow these steps:
Rest your body weight (as much as you can handle) on the tennis ball.
Support yourself with your opposite-side leg and foot or with your upper body (depending on the area you are targeting).
Then, roll over your target area, pinpointing and triggering muscles that otherwise may have been missed by the bigger foam roller.
Foam rolling and tennis ball rolling intensity can be determined by increasing or decreasing the size, shape, and hardness of the tool. The various tools you bring to the table will ultimately determine the experience you have with myofascial release.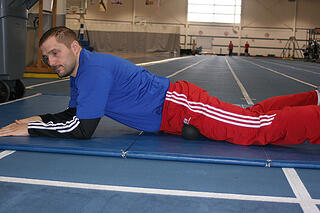 If you are new to self myofascial release or want to experience some new rolling techniques and tips, meet with a NIFS health fitness specialist or personal trainer to get started on your way to wellness excellence. A more fit day is right around the corner.
This blog was written by Thomas Livengood, Health Fitness Specialist at NIFS. To find out more about the NIFS bloggers click here.