For this second workout in the series we are going to be using a Kettlebell. Kettlebell training is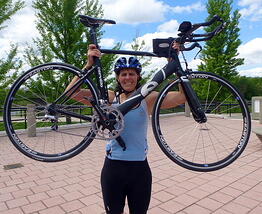 becoming a hot new way to change up your workout and is great for women.
Kettlebells come in many sizes, when looking for weights right for you, think of using a lighter weight of 10lbs, that you will use to press off your chest or over your head. You will need a heavier weight of 20lbs or more for leg/full body moves. You do not need more than one of each size, as you can offset your moves (use one arm/move) which challenges you to stabilize your core.
Watch the video below and try the movements. Be sure to start with lower weights if you are new to strength training or are not familiar with the Kettlebell.
If you have just joined this series be sure to go back and read all the blogs. Including:
Foam Rolling and Increasing Your Range of Motion
Increasing Metabolism with Strenght Training (Band Workout)
Ready to get started with an exercise program designed for you? Schedule an appointment with Kris by contacting her at 317-274-3432 or email.
This blog series was written by Kris Simpson BS, ACSM-PT, HFS, personal trainer at NIFS. To read more about Kris and NIFS bloggers click here.