*Hello Fitness Lovers!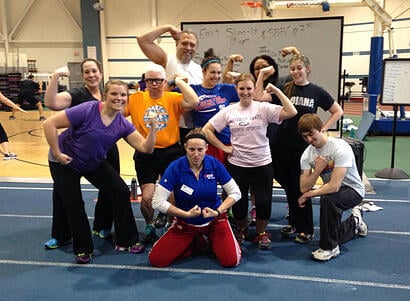 As some of you may know, we have our Slim It to Win It competition going on here at NIFS. As a first-timer coaching a Slim It team, I am excited to share with you an interview from one of my team members, and details on how I train my team.
I have 12 members on my team and we call ourselves Em's Sliminions, due to the fact that I love minions from the movie Despicable Me. Despite all of my team members not knowing one another from the beginning, they have become very close and developed a very good support system. I wanted my team to get to know each other since they will be stuck with each other for 10 weeks, so the first workout was partner exercises. They also had to share with the whole team their story of why they were there. The energy each one brings to the team is awe inspiring!
I design my workouts to keep them constantly moving at a high intensity and have little rest in between exercises, or metabolic training. The team shows up to the workouts pumped up and ready to sweat. Even when they see burpees on the board, they still keep faith!
Here are one of the team members' thoughts about the Slim It competition and about NIFS.
NAME: Sally Mulvaney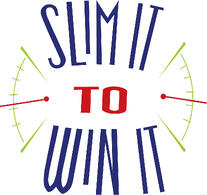 SHARE YOUR "STORY" OR A BIT ABOUT YOURSELF IN A FEW SENTENCES: I'm 59 and want to lose weight. I've been at NIFS for almost a year and I love what NIFS has done for me. NIFS gave me confidence in myself and has made me stronger. I look forward to my workouts, even when they are hard. My goal is to lose about 40 more pounds.
NIFS PROGRAMS YOU PARTICIPATED IN: I participate in the weight-loss program two times a week, once a week with a personal trainer, and Mini Marathon Training.
WHY DID YOU JOIN THIS PROGRAM? I joined this program to change things up with my weight-loss journey.
SOMETHING YOU HAVE ENJOYED: I have enjoyed working as a group and helping each other out. Sharing experiences of how the team does things that could help me out.
SOMETHING YOU HAVE LEARNED OR SOMETHING THAT SURPRISED YOU: I learned that I can do things I thought I would never do again: lifting weights, running, and regular pushups.
FAVORITE EXERCISE FROM ONE OF THE WORKOUTS? The Cheetah and anything that focuses on the abdominals, but definitely not burpees!
WHAT ACCOMPLISHMENTS HAVE YOU ACHIEVED DURING YOUR TRAINING PROGRAM FOR SLIM IT TO WIN IT (OR DO YOU HOPE TO ACHIEVE)? I hope to lose about 10 pounds during this program and lose some inches on my whole body.
WHAT STRUGGLES HAVE YOU ENCOUNTERED? TIPS YOU HAVE LEARNED ALONG THE WAY? Some tips I learned were not to do the exercises too fast and to work the muscles thoroughly.
HOW DO YOU STAY MOTIVATED? I've already lost 45 pounds this past year and feel much better. Also, the fact that I could go off some of my medications with my weight loss keeps me motivated to lose more weight*.
*Weight loss claims and/or individual results vary and are not guaranteed.
ANY OTHER THOUGHTS YOU WISH TO SHARE: I feel like joining NIFS and their programs has been the best choice I have ever made. NIFS is a wonderful place to work out and learn about ways to improve my fitness.
Training with a group is a proven strategy for sticking with a workout routine and is more economical than one-on-one training. If you are interested in trying a small group or large group training session contact Tony Maloney today to get started!
This blog was written by Emily O'Rourke, NIFS Heath Fitness Instructor. Learn more about the NIFS bloggers.