The Slim It to Win It workout highlighted today focused on a circuit-based, team-style approach. We broke our team into five groups. Each team started on a different exercise and completed 200 repetitions of that particular exercise. The catch was that only one team member could perform the exercise at a time. Once the 200 repetitions goal was met, the team moved on to the next exercise.
The Exercises in Our Circuit-Based Workout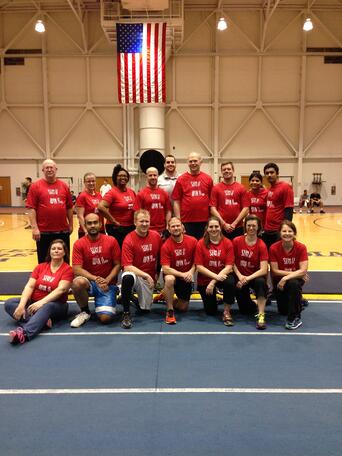 The following exercises made up the circuit:
Battle Rope Tom-Toms
Slosh Pipe/jogging laps
This workout is perfect for a Slim It To Win It group for a number of reasons.
Everyone Gets a High-Intensity Workout
One of the biggest challenges of large group training is catering to different fitness levels while maximizing everyone's results. It is always a priority to keep the intensity high for both seasoned NIFS veterans and newcomers to the program. Splitting the repetition load among teammates allows for different fitness levels to perform a different amount of reps, so all team members can keep their workout intensity at a high level.
A Workout with Just the Right Amount of Rest
Another reason I like this workout is the work-to-rest ratio. Performing the particular circuit exercise to exhaustion allows your partner to get rest time while you work, so you are recovered adequately when your turn is back up. You want to stay moving as much as you can during training, but rest is a very important aspect. The design of this workout allows for rest, but not too much.
A Workout That Emphasizes Camaraderie and Motivation
Finally, this workout has an emphasis on team camaraderie and motivation. While one team member rests, the other can ensure proper technique is being used and provide extra motivation to work together to complete the task.
Training with a group is a proven strategy for sticking with a workout routine and is more economical than one-on-one training. If you are interested in trying a small group or large group training session contact Tony Maloney today to get started!
This blog was written by Ben Norris, NIFS Heath Fitness Instructor. Learn more about the NIFS bloggers.