Another year of Slim-It to Win It and team "Tank the Plankers" are holding strong! Five of the biggest highlights for the team are the following: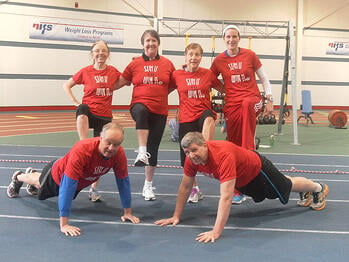 Over half of the team has 100 percent attendance.
Everyone can hold a plank for at least 45 seconds.
Everyone has completed their food logs and made adjustments according to Angie's feedback.
Everyone has completed their Functional Movement Screen and started completing their correctives.
Everyone has a great attitude every day.
Along with all of these great things, the team has completed a wide variety of workouts successfully. One workout that was recently completed was the Partner 100 workout using the TRX. The workout runs as follows. One partner completes one lap around the indoor track while the other counts up to 100 reps of the exercise before proceeding to the next one. The exercises completed are listed here:
100 TRX Chest Press
100 TRX 2-count Mountain Climbers
100 TRX Rows
100 TRX Squats
Although it was a very challenging workout both mentally and physically, everyone conquered it and even had a little energy left at the end to finish up with a sled push relay on the sprint lanes!
I will be sad once the program concludes because I feel very privileged to have the opportunity to work with this fun and hardworking group twice a week, but I also cannot wait to see how much progress they have made with all of their health and fitness goals going into this program.
KEEP UP THE GOOD WORK, PLANKERS!
Training with a group is a proven strategy for sticking with a workout routine and is more economical than one-on-one training. If you are interested in trying a small group or large group training session contact Tony Maloney today to get started!
This blog was written by Stephanie Kaiser, NIFS Heath Fitness Instructor. Learn more about the NIFS bloggers.