Hey there, Fit Family! This is my second year coaching a team, and I have to say it has been just as exciting as the first. Team "No Judgment" has been working hard since week 1 with excellent attendance, high energy during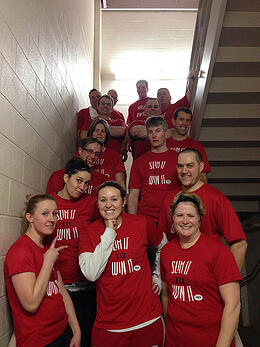 workouts, and amazing attitudes. These characteristics fit right into the formula for success.
What excites me the most about my team is that they are driven to succeed and see real fat-loss results.
Inspired by Martin Rooney's Metabolic Training
Martin Rooney said it best: "To be successful in life you must commit. If you freeze, you lose. There should be no halfway in anything you do." Rooney is a fitness professional whose work focuses mainly on metabolic training, which relates to the idea of improving the work capacity of our cardiovascular system in a way that works more efficiently. I like to train this way because it helps you burn fat, build muscle, and improve stamina all at the same time! My team will tell you, it is challenging and requires a lot of hard work, but it's also gratifying to complete each and every workout.
Another reason for training the metabolic system is that the majority of the exercises are dynamic and involve movement patterns that are common in our daily routine. An example would be the squat pattern because it mimics standing up from a chair or getting in and out of a car, which we all do on a regular basis.
The Fun Factor
Lastly, training the metabolic system should be hard, but it should also deliver a fun factor as well. You're more likely to repeat a single workout when you leave the last workout having fun and feeling great about your accomplishments. So don't forget, metabolic training is efficient and effective, and while it's not easy, it can be
fun!
Lastly, good luck to all other Slim-It to Win It teams as we have one week left. The finish line is near! Try your best to stay committed to your teams, your goals, and most importantly yourself!
Regardless of fitness level or goals, almost every member at NIFS could benefit from Group Training or enrolling in a NIFS program. I highly recommend taking the leap! If you are interested in trying a small group or HIT training session contact Tony Maloney today to get started!
This blog was written by Cara Hartman, NIFS Heath Fitness Instructor. Learn more about the NIFS bloggers.