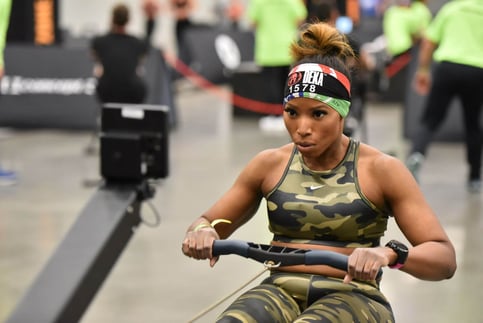 NIFS is excited to become a DEKA affiliate and bring DEKA group training and a new DEKA Strong event to NIFS this fall. You might be familiar with Spartan obstacle races, well, DEKA training and events are part of the Spartan brand, but this programming provides training and fitness options and events for ALL levels.
The DEKA Zones
With 10 DEKA Zones, training provides a well-rounded functional test for all levels of fitness. Every zone is based on rudimentary movements that don't require any specific training to complete. Just think thousands of years ago when it wasn't called exercise, fitness, or training. It was survival. Lifting, carrying, pushing, pulling, kneeling, jumping/stepping/climbing over something, getting down on the ground and standing back up, and three basic forms of transportation – row, ski, & cycle.
No matter what your current fitness level is, you are an athlete who trains with the purpose of becoming a stronger version of yourself.
3 Weekly Workouts/3 Pillars
The DEKA training system is built on 3 pillars of fitness:
#1 Strength and Power (DEKA FORGE): 10 Zones, 4 rounds, 30 Seconds ON/30 Seconds OFF
#2 Anaerobic Conditioning (DEKA BURN): 10 Zones, 3 Rounds, 60 Seconds ON/30 Seconds OFF
#3 Endurance (DEKA GRIT): 10 Zones, 2 Rounds, 90 Seconds ON/30 Seconds OFF
These 3 weekly workouts will elevate your fitness, improve daily performance and prepare you for your first DEKA event.
DEKA Group Training at NIFS
NIFS offers a 6-week DEKA training program that hits all 10 DEKA zones and helps participants track their progress. Nine training sessions will be offered each week, each class a different pillar. Attend at least three sessions a week, making sure to attend each pillar. Cost is $99 for members and $205 for non-members.
Training runs September 25th — November 4th and leads up to NIFS's first DEKA Strong event on November 11th. All training session times are listed on our website. Click below to register.
Join us for free DEKA training preview days!
Try out the 10 zones and train for free at our preview days. September 18, 19 at 6-7a, 12-1p and 6-7p and again outside in White River State park on Sept 21 from 12-1p behind the NCAA building. Enter to win 6-weeks of DEKA training!
What Is a DEKA Event?
DEKA events are not just a competition, they are a milestone of your fitness journey. In the same arena, on the same day, using the exact standards, every level of fitness can come together and celebrate fitness.
DEKA STRONG: Fitness testing, assessment, and event featuring our 10 DEKA Zones with zero running.
DEKA MILE: A unique and memorable fitness challenge for the masses combining our DEKA Zones each preceded by 160 meters of running (1 mile total).
DEKA FIT: This Super Bowl of Fitness event combines ten functional training zones (DEKA Zones), each preceded by 500 meters of running (5k total).
NIFS will be hosting our first DEKA Strong event on November 11. We are excited to run this competition for members and non-members and look forward to bringing this event to our facility. Registration information for this event willing be coming soon.